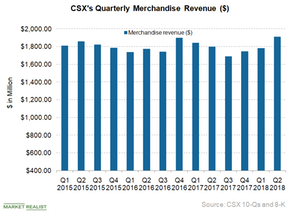 The Rise in CSX's Merchandise Freight Revenues in Q2 2018
By Samuel Prince

Updated
CSX's Q2 2018 merchandise revenues
Earlier in this series, we assessed CSX's (CSX) intermodal revenues in the second quarter. Now, let's take stock of its merchandise freight revenues. CSX's general merchandise revenues expanded 6.1% YoY (year-over-year) to $1.9 billion in the second quarter from ~$1.8 billion in the same period last year.
This division's share of CSX's total operating revenues declined 50 basis points to 61.5% in the quarter from 62.0% a year ago.
The chart above shows that CSX's Merchandise segment's second-quarter YoY growth was its highest in the last five quarters. In most of the last ten quarters, the division's YoY revenue change has been negative.
Article continues below advertisement
Q2 2018 merchandise volumes
CSX's general merchandise volumes fell 1.0% in the second quarter to 689,000 units from 694,000 units in the same period last year. The volumes of agricultural and food products slumped 2.0% in the quarter to 112,000 units compared with 114,000 units in the second quarter of 2017. Losses in the ethanol market were partially offset by higher shipments in the export grain market.
Chemical (DWDP) shipments were flat to 169,000 units. Lower fly ash shipments overshadowed the volume gains in municipal waste, industrial chemicals, and energy-related (UNG) commodities. Automotive volumes expanded 2.0% to 118,000 units from 116,000 units. Higher demand for SUVs and trucks pushed up North American vehicle production, resulting in increased automotive shipments.
Forest products' volumes were up 6.0% in the second quarter to 71,000 units from 67,000 units. Increased shipments of building and paper products led the volume growth. Mineral volumes fell 4.0% due to higher volumes of aggregate for construction and paving projects. 
Metals and equipment volumes jumped 3.0% to 69,000 units from 67,000. Higher volumes of construction material and pipe and increased utilization of mill capacity pushed up the volumes.
Fertilizer volumes reported the biggest fall of 18.0% in the second quarter, and these shipments declined to 64,000 units from 78,000 in the second quarter of 2017. The customer facility closure in the fourth quarter of 2017 resulted in reduced shipments.
Management outlook
On the pricing front, CSX expects its general merchandise pricing to remain strong in the second half of 2018. The railroad witnessed merchandise contract renewals at higher prices on a sequential basis. The company foresees a decline in North American automotive production later in 2018. However, CSX anticipates stability in paper boards and base chemicals.
The US–China tariff tensions have acted in favor of US steel producers, according to CSX. The company expects to haul increased steel volumes in the second half of 2018. The crude-by-rail shipments are expected to increase slightly in the coming quarters. CSX expects its merchandise revenues to grow at or above the US economic growth rate in 2018.
Transportation and logistics companies are a part of the industrial sector. Investors optimistic about the industrial sector can consider investing in the iShares US Industrials ETF. Among the 209 stocks held by IYJ in its portfolio, Boeing (BA) has the highest weight of 5.63%. BA is followed by 3M (MMM) with 3.44% and General Electric (GE) with 3.33%. IYJ has a 1.76% weight in CSX stock and an overall 6.71% weight in major US railroads. 
In the next part, we'll look at CSX's second-quarter operating margins.