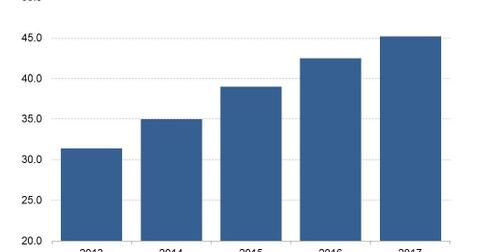 The Numbers Support Amazon's Whole Foods Investment
By Neha Gupta

Updated
Amazon investing in more Whole Foods locations
Amazon (AMZN) paid $13.7 billion in June 2017 to acquire Whole Foods, a leading organic foods retailer—this was Amazon's biggest merger and acquisition deal ever. Amazon is gearing up to release its second-quarter results on July 26, which could show us how its Whole Foods business performed in the quarter. However, Amazon isn't done investing in its Whole Foods business.
Amazon is working to open more Whole Foods locations. At least 38 Whole Foods stores are under construction across the United States, according to a Wall Street Journal report citing real estate trackers. Whole Foods currently operates more than 480 locations in North America and the United Kingdom. Amazon could open as many as 1,500 store locations across the United States alone, the report said.
Article continues below advertisement
Organic food sales hit $45.2 billion record
Amazon's continued investment in Whole Foods can be seen as a show of confidence in the organic foods business, and the numbers seem to be on its side. The organic food market is continuing to expand, with industry trade group OTA (Organic Trade Association) saying that US organic food sales increased 6.4% to $45.2 billion in 2017. 
Organic food sales currently account for less than 6.0% of the nation's total food retail sales. In the United Kingdom, sales of organic foods rose 6.0% to ~$3.0 billion last year, according to estimates by trade body Soil Association.
Amazon's physical store sales slipped
Amazon's physical store revenues, which came primarily from Whole Foods stores, totaled $4.3 billion in the first quarter for a 4.4% sequential decline. Walmart (WMT) and Target (TGT) saw their respective revenues fall 10.0% and 26.3% sequentially in the first quarter. Costco's (COST) first-quarter revenues fell 1.8% sequentially. However, Home Depot's (HD) revenues rose 4.2% sequentially in the first quarter.