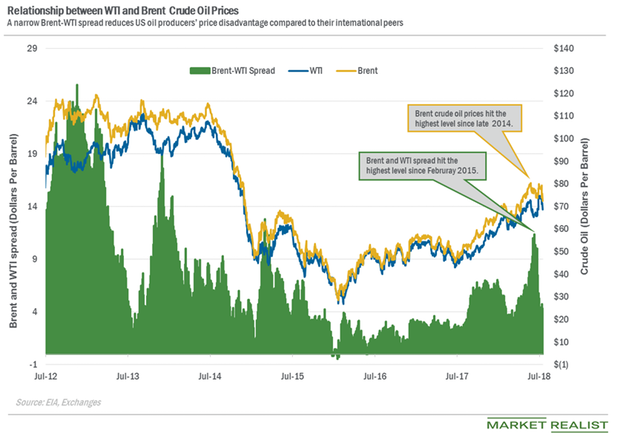 The Brent–WTI Spread Drops ~10.4% in the Last Five Sessions
By Gordon Kristopher

Nov. 20 2020, Updated 5:02 p.m. ET
Brent-WTI crude oil spread
The Brent-WTI crude oil spread was $3.78 per barrel on July 16, down from $4.22 per barrel on July 9. The price differential between Brent and WTI oil futures is called the Brent-WTI spread. The spread dropped ~10.4% from July 9 to July 16.
The Brent-WTI spread narrowed due to the supply outage in Canada, which led to the shutdown of the Syncrude facility in Alberta. This facility can pump up to ~360,000 bpd (barrels per day)—about 10.0% of Canada's oil supply. The facility is expected to be offline at least in early July. 
On July 13, Syncrude Canada said that it would cut 35.0% of crude oil deliveries to its customers in August. The supply outage could limit the crude oil coming to Cushing, Oklahoma.
Article continues below advertisement
A Reuters survey estimates that US oil inventories could have dropped by ~3.5 MMbbls from July 6 to July 13. The API[1. American Petroleum Institute] and the EIA[2. U.S. Energy Information Administration] are scheduled to release the oil inventory data on July 17 and July 18, respectively. These factors supported WTI crude oil relative to Brent prices. However, a rise in production from OPEC, Saudi Arabia, and Russia pressured Brent crude oil.
Brent-WTI crude oil spread
The Brent-WTI spread reached $11.40 per barrel on June 7, which was its highest level since February 27, 2015. A high spread typically motivates US oil producers to export more crude oil, and a wider spread is expected to benefit US crude oil refiners Valero (VLO), HollyFrontier (HFC), and CVR Energy (CVI). These stocks fell 12.5%, 10.2%, and 7.7%, respectively, from June 7 to July 16 as the spread decreased.
The Brent-WTI spread has fallen 66.8% since June 7. The narrowing Brent-WTI spread reduces US oil producers' price disadvantage compared to international oil producers. Pioneer Natural Resources (PXD) and Continental Resources (CLR) fell 6.4% and 7.3%, respectively, from June 7 to July 16.
Next, we'll look at the WTI Cushing-WTI Midland crude oil spread.