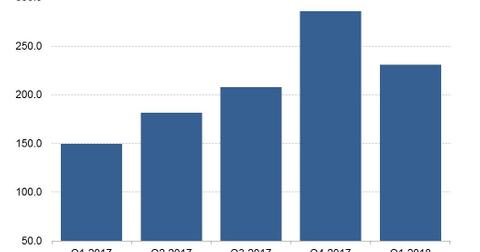 Snap Making Potentially Consequential Board Changes
By Neha Gupta

Updated
Snap taps Glossier's marketing executive for board seat
Snap (SNAP) recently announced board changes that could have a far-reaching impact on its core advertising business as well as the future of the company. Snap's longtime director, Mitch Lasky, is leaving the board and the company has tapped Poppy Thorpe to replace him. Thorpe is an executive at makeup company Glossier, where she oversees brand marketing.
Thorpe has managed brands and formulated social media marketing strategies for various companies over a decade. Therefore, her experience in brand development and advertising is expected to provide a valuable perspective that Snap could leverage to accelerate growth in its advertising business.
Article continues below advertisement
Advertising revenue growth slowed down
Snap is generally funded by advertising dollars. The company's advertising revenue jumped 62% YoY (year-over-year) to $229 million in the first quarter. Although the growth beat Facebook's (FB) advertising revenue growth of 50%, Alphabet's (GOOGL) 24.3%, and Twitter's (TWTR) 21%, it slowed from 74% a year ago. Yelp (YELP), another company competing with Snap for digital advertising dollars, grew its advertising revenue by 20% YoY in the first quarter.
Lasky's departure is amicable
Snap is set to forward Thorpe's name for shareholder votes at the company's annual shareholder meeting next month. Thorpe's addition is also expected to make Snap's board more diverse in terms of gender representation. Snap said that the departure of Lasky, who represented venture capital company Benchmark on Snap's board, was not a result of any disagreement.