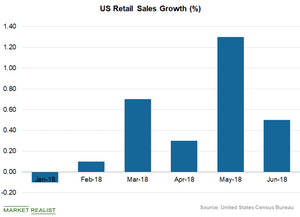 Simon Property to Gain from Improving Economy, Trump's Policies
By Anirudha Bhagat

Updated
Improving economy
President Donald Trump's pro-American policies have boosted confidence in the US economy.
Improvements in the job market, higher disposable income, decent inflation, and improving gas prices have contributed to the spike in the consumer sentiment for the past few months. Rising optimism has triggered more frequent mall visits.
According to the latest data from the US Department of Commerce, retail sales rose 0.5% in June, marking the fifth consecutive month of growth. Moreover, the consumer confidence index stood at 126.4 in June. Although this was slightly down from May's level of 128.8, it remained well above the 100-point mark, signifying an optimistic consumer sentiment.
This favorable consumer environment should boost the hopes of retailers, who may implement expansion strategies, the benefits of which are likely to pass on to mall owners and operators such as Simon Property Group (SPG) and Equity Residential (EQR).
Article continues below advertisement
Trump's policies
Simon Property's natural development drivers are tenant demand for stores in quality areas and the capacity to re-rent space at higher market rates on termination.
The implementation of President Trump's Tax Cut and Jobs Act is likely to have an overall positive impact on the retail industry. With the enactment of this legislation, corporate tax rates have come down to 21% from 35%. A lower tax rate not only improves a company's net income but also frees up funds for investment in growth opportunities. The retail industry is among the most highly taxed industries, so it's likely to benefit from these tax reforms.
The Trump administration isn't expected to put any upward pressure on the minimum wage, allowing small shops and brick-and-mortar locations to garner higher margins and target locations with higher rents. These steps will encourage small to midsize retailers to take more risk and expand in prime locations.
Many retailers are remodeling their stores with features such as free Wi-Fi and USB chargers so that people find additional reasons to visit and spend more time in their stores. Some retailers are also designing their stores to look more leisurely by providing lounge and fun zone areas. Last year, Target (TGT) announced a three-year $10 billion investment plan to renovate its stores.
Furthermore, online retailers such as Amazon (AMZN) and eBay (EBAY) expanding into offline formats by opening stores within stores or pop-ups will surely benefit mall owners. While physical presence serves as a marketing tool for online retailers, consumers find it more trustworthy and service friendly.
Simon Property Group makes up ~7.8% of the SPDR Dow Jones REIT ETF (RWR).