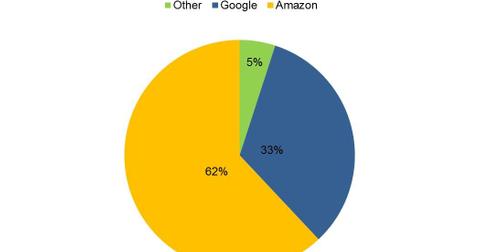 Should Google Give Away Free Home Speakers?
By Neha Gupta

Updated
Google advised to dish out Home speakers free of charge
Alphabet (GOOGL) is about to report its second-quarter results at a time when some are saying that its Google branch risks falling behind the competition in the smart speaker market and should, therefore, take some drastic measures to stay competitive.
Late last month, analysts at Morgan Stanley suggested that Google should consider giving away a free Home speaker to every American household, claiming that it would be good for both Google's core advertising business and its smart speaker venture. Google sells its smart speakers under its Home brand, while Amazon (AMZN) sells its speakers under the Echo brand.
Article continues below advertisement
Amazon poses a threat to Google's ad business
According to Morgan Stanley, Amazon is dominating the US smart speaker market. It's expected to close the year with a 62% share of the US smart speaker market compared to Google's 33%. More than 70% of US households are expected to have a smart speaker with voice-shopping capabilities by 2022.
The risk to Google is that Amazon could leverage its smart speaker dominance to give it tough competition in the advertising business. As consumers embrace voice shopping, whereby they speak through smart speakers to order items online, Amazon's large smart speaker install base could give it a leg up against Google in the battle for retail advertising dollars.
Besides Amazon, Twitter (TWTR), Snap (SNAP), and Verizon's Oath (VZ) are also vying against Google for digital advertising budgets.
It would cost just over $3.0 billion
To protect against the risk of competition, Google might be better off giving away its smart speakers to American consumers free of charge. If the company were to give away its low-cost Home mini speaker model, Morgan Stanley estimates the move would cost it only $3.3 billion.