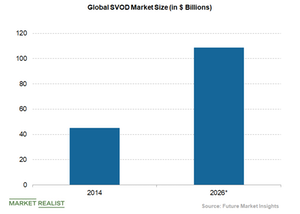 Should Comcast Be Concerned about Disney or Fox for a Sky Bid?
By Sophia Nicholson

Jul. 31 2018, Updated 10:31 a.m. ET
The bidding war for Sky 
Both 21st Century Fox (FOXA) and Comcast (CMCSA) are in a bidding war for a 61% stake in European broadcaster Sky Plc. Fox already owns a 39% stake in Sky. Walt Disney (DIS) has agreed to acquire Fox's 39% stake in Sky along with other media and entertainment assets of Fox.
Fox made its first bid of $15.5 billion for 61% stake in the London-based broadcaster and telecommunications company in December 2016, which was topped by Comcast's offering of ~$31.0 billion. Fox made a better offer of about $33.0 billion to supersede Comcast's bid, but it was held behind by Comcast's latest offer of approximately $34.0 billion for the Sky stake.
Article continues below advertisement
Would Disney separately bid for Sky? 
According to the UK's takeover rules, Disney should make a mandatory bid of 14.60 pounds per share for Fox assets once it completes the acquisition of Fox assets—including a 39% stake in the satellite broadcaster Sky—to treat Fox and Sky's independent shareholders fairly. 
Britain's Takeover Panel reportedly pointed out that because Disney was interested in buying Fox assets, including Sky, it should make an offer for the 61% stake in Sky separately. However, Disney has not disclosed any intentions of doing that.
Last week, Disney stated in an SEC filing that Fox might not raise its offer price for the Sky acquisition, as an increase in Sky's bid price could further increase Fox's debt load and require Disney's consent. According to industry sources, Disney might not agree to let Fox raise its bid for Sky. Disney could also decide to sell Fox's 39% stake in Sky to reduce the overall cost of the deal.
Rising demand for online streaming services
The SVOD (subscription video on demand) market has been developing rapidly and is expected to touch $108.6 billion by 2026, according to Future Market Insights. The acquisition of Sky assets would boost Comcast's revenues and as well as its international presence, as Sky has around 23.0 million customers in five countries. 
Sky has a streaming service, Now TV, and also invests in original programming. Netflix added 5.2 million subscribers in the recently reported second quarter, missing expectations by around 1.0 million subscribers. Both Netflix and Amazon are spending billions of dollars on original content to attract customers to their streaming services.