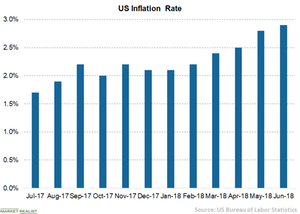 Shifting Economic Winds Could Be Good for Real Assets
By VanEck

Jul. 24 2018, Updated 10:55 a.m. ET
VanEck
The Winds Are Shifting
Inflation is something that has not been seen in well over a decade, but the ingredients are there: a strong U.S. economy, unemployment at historic lows, and the recent stimuli of tax reform, deregulation, and government spending, which may not even have fully taken hold yet. Plus, recent indications from the Fed continue to indicate a potentially more aggressive approach to tightening.
Article continues below advertisement
Market Realist
Inflation picking up
In developed countries, inflation had languished below the central bank's target level for many years. However, in recent years, solid economic growth, supply bottlenecks, and rising commodity prices have pushed up inflation in the United States.
In June, inflation in the United States jumped 2.9% YoY (year-over-year), the largest annual gain since February 2012. Core inflation, which excludes volatile food and energy prices, rose 2.3% YoY in June, which is above the Fed's target level. Outside the United States, however, inflation has not picked up as expected. There is evidence it may occur on the back of higher commodity (DBC) (GSG) prices.
Buoyant economic indicators
The US unemployment rate fell to 3.8% in May, the lowest since April 2000. It rose to 4% in June. Job growth is very strong in the United States. In June, employers added 213,000 jobs, exceeding expectations of 195,000.
According to The Wall Street Journal, economists expect the US unemployment rate to fall to 3.6% by mid-2019, which would be almost a 50-year low. In view of the upbeat economic scenario and rising inflation, the Fed is expected to continue its rate hike spree in the next couple of quarters.