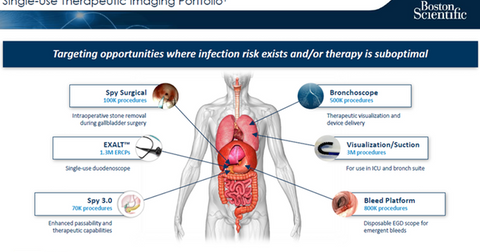 Pathology, Infection Control: Boston Scientific's Key Areas?
By Margaret Patrick

Updated
GI pathology services
Boston Scientific (BSX) currently operates the only gastrointestinal (or GI) specialized pathology lab in the United States. Because of the deep GI-specific knowledge of the pathologists at the lab, ambulatory surgery centers (or ASCs) prefer Boston Scientific's pathology services in the GI area.
Additionally, Boston Scientific is a leading provider of gastric biopsy forceps, making almost 15 million of them annually. The Radial Jaw, a leading biopsy forcep, has enabled the company to strengthen its relationship to the end users of biopsy as well as GI pathology services.
Boston Scientific's commercial team is currently servicing around 1,700 ASCs for GI pathology services in the United States.
All these efforts have helped boost the company's revenues for its pathology services business, which was ~$20 million at the time of the acquisition of EndoChoice to close at $40 million in Q1 2018. The company aims to push those revenues to ~$100 million in the coming years.
The above diagram shows a snapshot of Boston Scientific's single-use therapeutic imaging portfolio, targeting its infection control segment, which presents a multi-billion-dollar opportunity for the company's endoscopy business.
Article continues below advertisement
Infection control segment
With hospitals investing aggressively to prevent the transmission of antibiotic-resistant bacteria, there is a rising demand for infection-control solutions. Boston Scientific will be launching ORCAPOD, a single-use air and water suction valve to be attached to reusable scopes. With approximately 30 million endoscopic procedures being conducted annually around the world and more hospitals preferring single-use air and water suction valves, there is a significantly high growth opportunity for ORCAPOD.
To further leverage opportunity in the infection-control area of the endoscopy business, Boston Scientific is developing a family of single-use endoscopes. It's preparing to launch EXALT, a single-use duodenoscope that will reduce cross-contamination risk as well as improve cost-effectiveness. The company also aims to reduce the capital investment required for endoscopy procedures and further reduce device availability issues with EXALT and other single-use endoscopes. EXALT is estimated to target a market opportunity worth more than $1 billion in 2018.