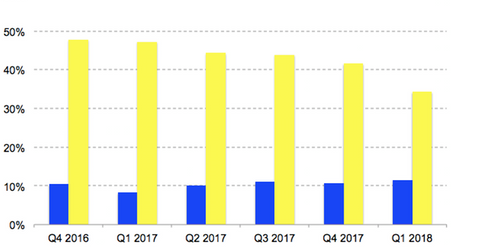 Netflix's Popularity Continues to Rise
By Sanmit Amin

Updated
Netflix is the most popular platform to watch videos on TV: Cowen & Co.
Demand for Netflix (NFLX) is rising by the day, as the video-streaming giant has become enmeshed in the lives of many Americans. Its international subscriber growth is on a tear, as the company is aggressively adding new local content to its library.
According to a May survey of 2,500 American adults conducted by Cowen & Co., Netflix is the most popular platform for watching video content on television. About 27.0% of the survey's respondents preferred Netflix for streaming content.
Although basic cable still ranked second at 20.0%, this trend suggests that viewers are becoming more inclined to cut the cord. Broadcast garnered 18.0% of the votes, and Google's (GOOG) YouTube had 11.0% of the votes.
Article continues below advertisement
Netflix is even more popular among young adults
Among respondents between the ages of 18 and 34, Netflix had 39.7% of the votes. Netflix was followed by YouTube and basic cable with 17.0% and 12.6%, respectively.
Netflix has launched a wide variety of original content, which is attracting subscribers worldwide. The company has invested billions of dollars in capital to create quality programming, and it expects negative cash flows over the next few years.
Netflix expects to kick-start an important quarter of earnings for the FAANG[1. Facebook, Apple, Amazon, Netflix, and Google] stocks. The streaming giant plans to announce its second-quarter numbers on July 16. In the last few quarters, Netflix stock has surged after announcing stellar results.