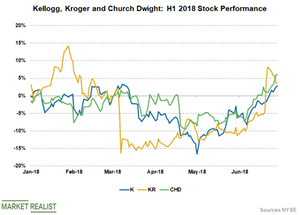 Kellogg, Kroger, and Church and Dwight: Sprouts of Green
By Amit Singh

Updated
Improving business trend driving stock recovery
Shares of the Kellogg Company (K), Kroger (KR), and Church and Dwight (CHD) have shown sharp recovery in recent months thanks to improving fundamentals and multiyear low valuations.
New product launches and acquisitions are driving the top lines of Kellogg and Church and Dwight. Meanwhile, Kroger is benefiting from its digital offerings and growth in its private label products.
Article continues below advertisement
Kellogg stock up ~23% in two months' time
Kellogg stock has shown sharp recovery in the past couple of months and has registered ~23% growth since it reported its first-quarter results on May 3. Moreover, its stock grew ~3% in the first half of 2018, a feat only a few packaged food companies achieved, as most were trading in the red.
Kellogg's improving sales, driven by its RXBAR and Parati acquisitions and momentum in its Pringles brand, are expected to drive its top line. Meanwhile, strong cost savings from its distribution model transition and its lower effective tax rate are likely to drive double-digit EPS for it going forward.
Kellogg stock is trading at a forward PE multiple of 15.7x, well below its two-year average of 17.5x.
Kroger stock is gaining steam
Kroger stock showed strong recovery soon after posting better-than-expected first-quarter results on June 21. The company's "Restock Kroger" program, which is aimed at accelerating sales growth and lowering costs, is gaining traction and driving its financials. The company's strengthening of its delivery platform, including its partnering with Ocado and Instacart, have boded well with consumers and are likely to drive traffic. However, increased competition and cost pressures could play spoilsport.
Kroger stock was trading at a forward PE multiple of 13.2x on July 2, below its four-year historical average multiple of 15.3x.
What's driving Church and Dwight stock?
Church and Dwight impressed with its first-quarter performance, which led to a strong recovery in its stock price. The company's top line has benefited from innovation-led new product launches and incremental sales from its recently acquired brands. Improved volumes have also been driving its organic sales.
Strong sales and a significant decline in the tax rate are supporting the company's bottom line growth rate. However, lower net price realizations and cost headwinds remain a drag. Church and Dwight stock is trading at a forward PE multiple of 23.1x, lower than its four-year average of 24.6x.