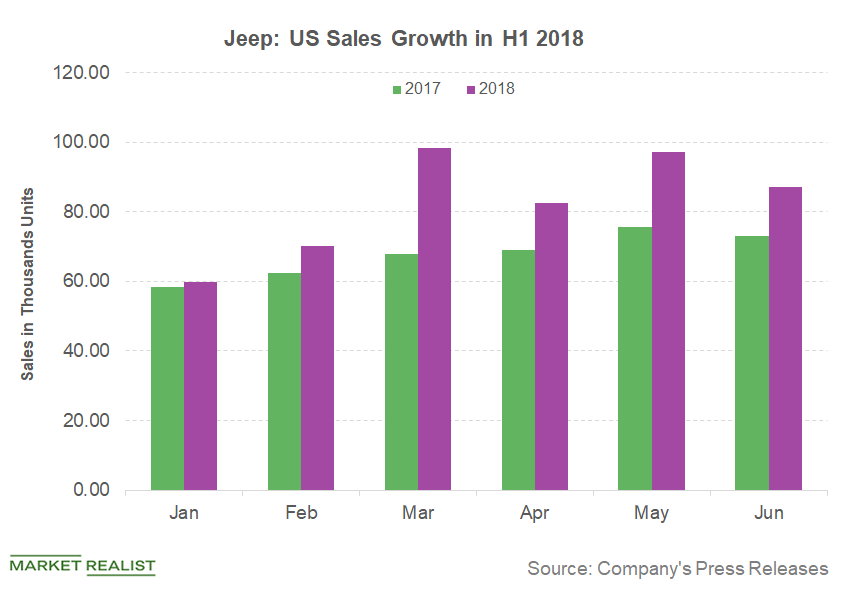 June Update: Fiat Chrysler's US Jeep Sales Jump 19%
Fiat Chrysler's brand-wise sales
In June, Fiat Chrysler (FCAU) sold 2,249 units of its luxury Alfa Romeo brand in the US market, against just 1,017 units in June 2017. This sharp increase in Alfa Romeo sales could be attributed to continuous demand for the company's recently launched Stelvio SUV and Giulia models. Let's look at how its other key brands performed in US markets in June.
Article continues below advertisement
Jeep sales rise 19%
In June, Fiat Chrysler's Jeep brand sales were strong for a fifth straight month after dropping for eleven consecutive months. Ram brand sales also rose, by 6% YoY (year-over-year) to 51,729 units.
Last month, the company sold ~86,989 Jeep brand units, marking a 19% rise YoY. In late 2016, FCAU launched the second generation of its Jeep Compass, which is continuing to see impressive positive sales growth. In June, Fiat's Jeep Compass US sales grew 82% YoY to 15,142 units. Jeep Wrangler was the top-selling Jeep vehicle, with sales rising 23% YoY to 23,110 units sold.
In May, FCAU sold 97,287 Jeep brand units. Jeep and Ram are two of Chrysler's key US brands. The Ram brand also holds a notable position in the pickup truck space.
Positive for Q2 margins
Pickup trucks and luxury brand vehicles generate high profits for vehicle manufacturers. A notable increase in the company's Alfa Romeo and strong demand for the Jeep and Ram brands could boost FCAU's Q2 profit margins.
In its most recent quarter, Fiat Chrysler's net profit margins were narrower than those peers (XLY) Toyota (TM), General Motors (GM), and Ford (F). Among these auto companies, Toyota is known to maintain the widest profit margin. In the quarter ended March 31, FCAU's, GM's, Ford's, and TM's adjusted net profit margins were 3.8%, 5.7%, 4.4%, and 6.3%, respectively. Next, we'll learn about Toyota's US auto sales in June.