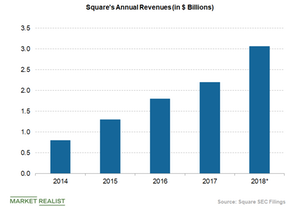 Is PayPal Better than Square in the Payment Service Market?
By Sophia Nicholson

Updated
Stephens analyst downgraded Square stock
On June 25, Square (SQ) stock was downgraded by a Stephens analyst to "equal weight" from "overweight." According to analyst Brett Huff, the stock is at an appropriate level following a significant upside trend over the past two years.
Huff pointed out that the company's current share price has already incorporated 13.5x forward adjusted revenue. In fact, the analyst said that he prefers PayPal (PYPL) over Square and has thus rated the stock as "overweight."
Article continues below advertisement
PayPal on an acquisition spree
Since separating from eBay (EBAY) in 2015, PayPal has been making efforts to offer a range of digital financial services through partnerships and acquisitions.
Recently, the company announced its acquisition of Simility, a fraud prevention specialist. PayPal has also acquired leading global payout platform HyperWallet to enhance its payout capabilities. In May, PayPal made a significant acquisition of a Swedish payments company called iZettle for $2.2 billion. iZettle is expected to give fierce competition to Square.
Square's acquisition of Weebly to generate revenue
Meanwhile, Square also made its largest acquisition in May with the purchase of Weebly for $365 million to enhance its omnichannel offerings as well as to expand its reach globally. Weebly provides online website and e-commerce solutions to small businesses to help them create a professional online presence.
Square recently updated its 2018 revenue guidance to reflect the impact of the Weebly acquisition. Square now expects its 2018 revenue to get a boost of at least $300 million from Weebly. Following the acquisition, Square raised its 2018 revenue outlook to $3.03 billion–$3.09 billion, up from its previous forecast of $3 billion–$3.06 billion.
In 2017, Square generated $2.2 billion in revenue while its rival PayPal reported revenue of $13.1 billion.
Competition in the digital payments space
Square and PayPal face stiff competition from established companies such as Facebook (FB), Vodafone, and Spotify, which are also looking to expand in the digital payments space. Amazon (AMZN) also wants to grab a larger share of the digital payment service market and is thus willing to give discounts to retailers for using Amazon Pay to make payments.