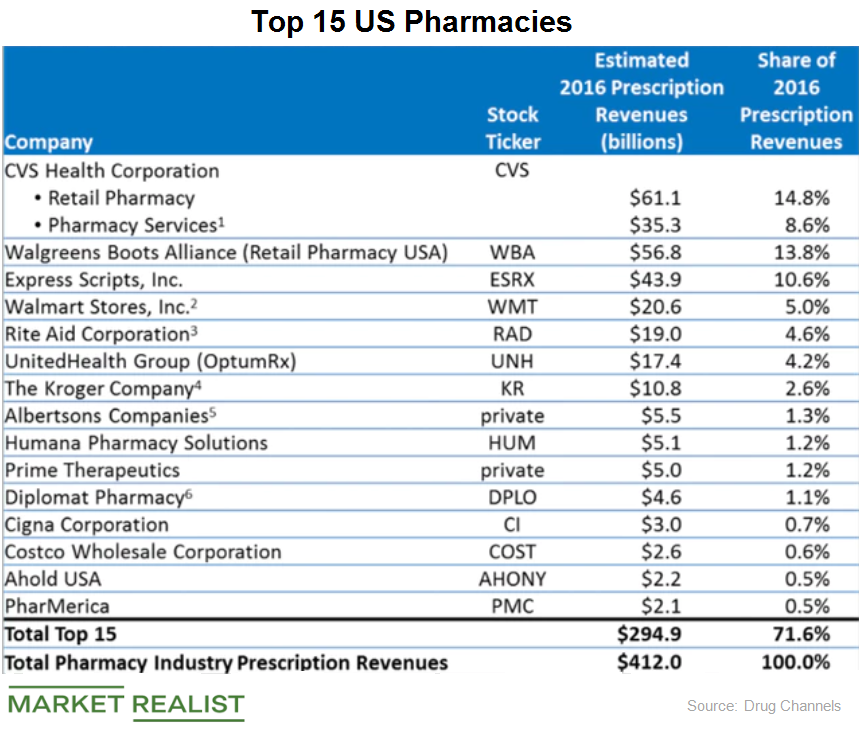 How Pharmacies and Drugstores Are Defending against Amazon
By Anne Shields

Jul. 4 2018, Updated 9:01 a.m. ET
Pharmaceutical and drugstore companies fell heavily on June 28
Earlier, we discussed how Amazon's (AMZN) purchase of PillPack is expected to pose a threat to existing players in the pharmaceutical space. It's very likely that these concerns have been picked up by the market, as the stocks of all major players in the space have lost considerable value.
The stock prices of retailers Walgreens Boots Alliance (WBA), CVS Health (CVS), and Rite Aid (RAD) have fallen significantly. On June 28, following the announcement of PillPack's acquisition by Amazon, Rite Aid stock plunged 11%, Walgreens Boots Alliance tumbled 10%, and CVS Health fell 6%. Collectively, these three companies lost ~$13 billion in market cap on June 28.
Drug distributors Cardinal Health (CAH), AmerisourceBergen (ABC), and McKesson (MCK) faced the same fate. AmerisourceBergen and Cardinal Health fell more than 4% each, while McKesson stock fell 6% on the announcement.
Prior to Amazon, Walmart (WMT) bid for PillPack for less than $1 billion. Walmart lost $3.04 billion in market cap on June 28.
Article continues below advertisement
Consolidation expected in the pharmacy and drugstore space
According to research by Barclays analyst Meredith Adler, CVS and Walgreens control at least half of the drugstore market in ~70 of the top 100 metropolitan areas.
It appears these retailers and drug distributors have realized the impact Amazon's deal will have on them. CVS is in the process of acquiring Aetna, a health insurer, for $69 billion. Under this deal, walk-in clinics, retail pharmacies, and Caremarks will be integrated with Aetna's insurance plans.
Rite Aid is trying to merge with Albertsons, a grocery chain. It has requested that its shareholders vote in favor of the merger.
Walgreens has preferred the partnership route over acquisitions. It's partnering with health insurers Humana and UnitedHealth Group as well as LabCorp, a provider of lab testing.