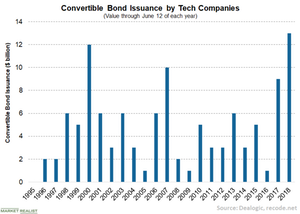 How Much Longer Can the Economy Keep Growing?
By VanEck

Jul. 6 2018, Published 11:06 a.m. ET
VanEck
Indications of Late-Cycle Economy Remain
Many indicators continue to tell us the economy is very late in the cycle. The current economic expansion is now the second longest on record, surpassed only by the tech boom of the 1990s. Convertible bond issuance by tech companies is on pace to challenge the levels last seen in 2000. The stock market is struggling to return to its highs, even though S&P 500 companies spent $158 billion buying back stock in the first quarter, a record pace according to a report from the S&P Dow Jones Indices. Delinquency rates for subprime auto loans have surpassed the levels of the global financial crisis. Financial regulation has come full cycle, as Congress passed a deregulation bill in May and the Fed advanced a proposal to ease the Volcker rule,5 both aimed at reducing crisis-era regulations. The Fed is tightening, but rates are still far below normal at this stage of the cycle. Accommodative monetary policies continue to promote asset price inflation. In May, the Rockefeller Collection auction surpassed all expectations, raising $832 million, nearly doubling the previous record for a collection, which was set in 2009.
Article continues below advertisement
Economic down-cycles are normally a healthy and somewhat painful way of cleansing the economy of bad debts, dead beat companies, and crooks. The extraordinary risk facing the financial system is that central banks have little to no room to stimulate when the current cycle comes to an end. There is no capacity for fiscal stimulus either and sovereign debt service could become very problematic. Fiscally, the developed world is looking more like Italy all the time.
5The Volcker Rule refers to a part of the Dodd–Frank Wall Street Reform and Consumer Protection Act, originally proposed by American economist and former United States Federal Reserve Chairman Paul Volcker to restrict United States banks from making certain kinds of speculative investments that do not benefit their customers.
Article continues below advertisement
Market Realist
Economic growth seems to be peaking
The current economic expansion began in June 2009. It will be the longest in US history if it makes it to ten years next June. Currently, the economy is going strong. Unemployment is at a 17-year low. Consumer and business confidence are near record highs, and the stock markets (IVV)(VTI) are still trading near their historic peaks.
Nevertheless, signs of the economy peaking are imminent. According to Dealogic, technology (TWTR)(WDC)(CTRP) companies have issued convertible bonds worth $13.4 billion in 2018, the most in the first half of any year. Companies issue convertible notes because they carry lower coupons than conventional bonds, reducing their borrowing costs. As the chart above shows, tech companies' sharp increase in convertible bond issuance is immediately followed by a market collapse in 2000 and 2007, indicating that companies tend to issue bonds at the late phase of the economic cycle.
When GDP is going strong and growth reaches a peak, the economy can become vulnerable to external shocks like a geopolitical crisis or a trade war. Alternatively, the economy can overheat, prompting the central bank to raise interest rates, which itself can end economic expansion. The current rate hike spree by the Fed comes in response to strong economic growth to tame rising inflation. Any aggressive rate hike by the Fed could limit growth.