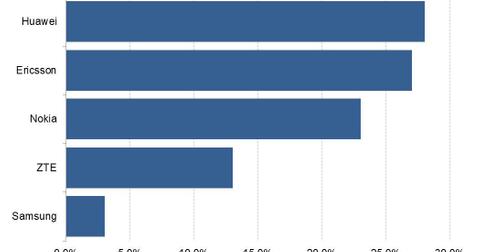 Has Huawei Become Samsung's Nightmare?
By Ruchi Gupta

Updated
Samsung supplying Verizon's 5G project in California
Samsung (SSNLF) is in the running for mobile operators' investments in building 5G (fifth-generation) networks. In the United States, for example, Samsung has been tapped as a technology and equipment supplier for Verizon's (VZ) 5G project in Sacramento, California. Verizon and its rival AT&T (T) are working to launch 5G services in several US markets before the end of the year.
While Samsung is winning contracts abroad with some of the world's most prominent mobile operators, it's facing a serious challenge at home. For its business of providing telecom equipment and services, Samsung has traditionally relied on home support, but that support seems to be going away in a manner that could both cost it revenue at home and undermine its pursuit of 5G investment budgets.
Article continues below advertisement
Roughly $9.0 billion in 5G contracts up for grabs
According to Bloomberg, China's Huawei could end up supplying 5G projects for all three of South Korea's national mobile operators in what could be a crushing defeat to Samsung in its home market. LG Uplus, one of the three operators, has reportedly expressed willingness to go with Huawei's technology for its 5G program. The other two operators, SK Telecom and KT, are reportedly considering Huawei alongside Samsung, Nokia (NOK), and Ericsson (ERIC) as potential suppliers for their 5G programs.
South Korea is one of the countries vying to lead the 5G race. Operators in the country could award contracts worth ~$9.0 billion for their initial 5G projects.
3.0% of the mobile infrastructure market
Losing to a foreign rival at home could make it difficult for Samsung to persuade overseas customers to choose its technology for their 5G network rollout. Samsung held 3.0% of the global mobile infrastructure market last year, according to IHS Markit. Huawei leads the space with a 28% market share.