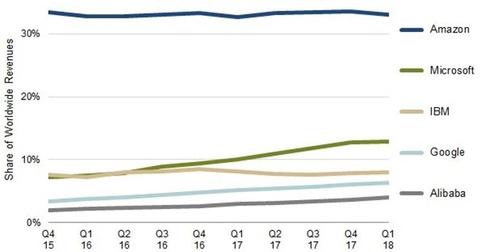 Google's Long Trek to the Top of the Cloud Space Continues
By Neha Gupta

Updated
Google makes $1.0 billion in cloud revenue
In the first half of 2018, for the first time, we got a glimpse of how Google's (GOOGL) cloud computing business measures up to its competition. In February, Google revealed that its cloud business now brings an average of $1.0 billion in revenue every quarter. That revelation confirmed independent studies showing that Google was trailing Amazon (AMZN) and Microsoft (MSFT) in the cloud computing market.
Article continues below advertisement
Amazon's cloud business brings more than $5.0 billion in quarterly revenue, and Synergy Research last estimated that Amazon controls 33% of the global cloud market. Microsoft's share of the global cloud market is estimated to be 13%, making it the second-largest cloud vendor after Amazon. Google's share of the global cloud market was last estimated to be 6.0%, while Alibaba (BABA) controls 5.0% of the cloud market. IBM (IBM) is also vying for the top spot in the cloud market.
Google steadily gaining ground
While Google seems to have a long way to go to catch up to the cloud market leader, it is steadily gaining ground. Google was able to grow its share of the cloud market to 6.0% in the first quarter from 5.0% a year prior, while Amazon's share of the market stayed flat.
Multi-cloud strategy working in Google's favor
Google also seems to be benefiting from cloud buyers embracing multi-cloud strategies, which involve buying cloud services from different vendors. Because of this approach, companies such as Spotify (SPOT) and Twitter (TWTR) now run their workloads on Google's cloud in addition to Amazon's.