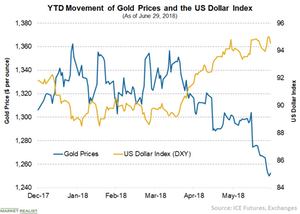 Gold's Modest Response to Europe's Localized Risks
By VanEck

Oct. 8 2020, Updated 1:29 p.m. ET
VanEck
Gold Responds to Systemic Risks, Not Headlines
It seems that every time new, scary headlines emerge, press articles declare that gold no longer serves as a safe haven.2 The Italian political crisis is the latest case in point. The evolving situation in Italy is supportive of gold, as shown by its resilience against a strong move in the U.S. dollar. However, anyone expecting a big move from gold fails to understand the fundamentals of the gold market. Gold responds to genuine global systemic risks. These are risks that can have a negative financial impact on just about everyone personally and/or professionally, i.e., risks that bring excessive inflation or deflation, currency, debt, banking crises, or geopolitical events that impact trade and commerce. Localized risks that are the subject of most headlines do not elicit a strong response from gold.
Article continues below advertisement
Stock, bond, and currency markets reacted violently to the Italian news. However, the gold market remained calm, which tells us that, so far, this is not the systemic event that the headlines are implying. The chances of an EU breakup are still very small. The euro has survived Greece and Brexit. Gold price action indicates the EU will survive Italy as well. If the situation reaches global systemic proportions, we are sure there will be a strong response from the gold market. Until then, investors should be wary of the implications of the seemingly endless stream of scary headlines.
Gold can also have a different response locally that many American reporters ignore. In euro terms, gold gained €25.62 (2.4%) in May, making a new yearly high. Italians holding gold have a safe haven hedge.
Like gold, gold stocks saw little net movement in May, as the NYSE Arca Gold Miners Index (GDMNTR)3 advanced 0.2% and the MVIS Global Junior Gold Miners Index (MVGDXJTR)4 gained 0.3%.
2Safe haven is an investment that is expected to retain its value or even increase its value in times of market turbulence.
3NYSE Arca Gold Miners Index (GDMNTR) is a modified market capitalization-weighted index comprised of publicly traded companies involved primarily in the mining for gold.
4MVIS® Global Junior Gold Miners Index (MVGDXJTR) is a rules-based, modified market capitalization-weighted, float-adjusted index comprised of a global universe of publicly traded small- and medium-capitalization companies that generate at least 50% of their revenues from gold and/or silver mining, hold real property that has the potential to produce at least 50% of the company's revenue from gold or silver mining when developed, or primarily invest in gold or silver.
Article continues below advertisement
Market Realist
Gold's muted reaction to events in Italy
Despite the financial and political crisis in Italy, gold remained range-bound for most of May. We saw a mature reaction from gold since the direction of events in the Eurozone region is uncertain. If the crisis in Italy worsens and spreads to other EU countries, leading to their possible exit from the European Union, gold (GLD) would be likely to see significant safe-haven buying, particularly if equities also went into a downward spiral. However, any upside to gold would be limited if the US dollar also strengthened because of the inverse relationship between the two. The chart below depicts the negative correlation between the US dollar and gold.
Little movement in gold stocks