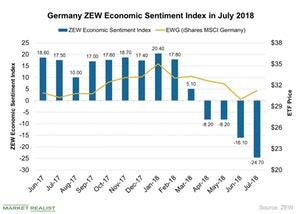 Germany ZEW Economic Sentiment Has Been Worsening Gradually
By Sarah Sands

Nov. 20 2020, Updated 2:02 p.m. ET
Germany's ZEW economic sentiment index so far in July
According to data provided by the Centre for European Economic Research (ZEW), the Germany ZEW Economic Sentiment Index has fallen in July. It stood at -24.7 so far in July (through July 24), compared to -16.1 in June. This was below the market expectation of -18.0 and is the index's weakest figure since August 2012.
The ZEW economic sentiment index measures the economists' level of confidence in the economy. The weakest figure in six years indicates that economists are not that optimistic about the economy's outlook. In the previous article, we saw how the rising trade tensions between the US and Europe affected consumer confidence and the business climate in Germany.
Article continues below advertisement
Germany is the Eurozone's leading luxury car manufacturing and exporting country. The imposition of import tariffs on all European cars badly affected Germany's auto industry. The German economy is also considered a manufacturing hub in the Eurozone. The imposition of these import tariffs has created huge uncertainty in the country's economy.
Performance of major ETFs
The iShares MSCI Germany ETF (EWG), which tracks the performance of Germany (DAX-INDEX), fell 5.2% in June. The Vanguard FTSE Europe ETF (VGK), which tracks the performance of the Eurozone (N100-INDEX), fell 3.1% in the same month. However, the EWG ETF has risen 4.2% so far in July, as of July 27.
In the next part of this series, we'll analyze the performance of the UK's inflation in June 2017.