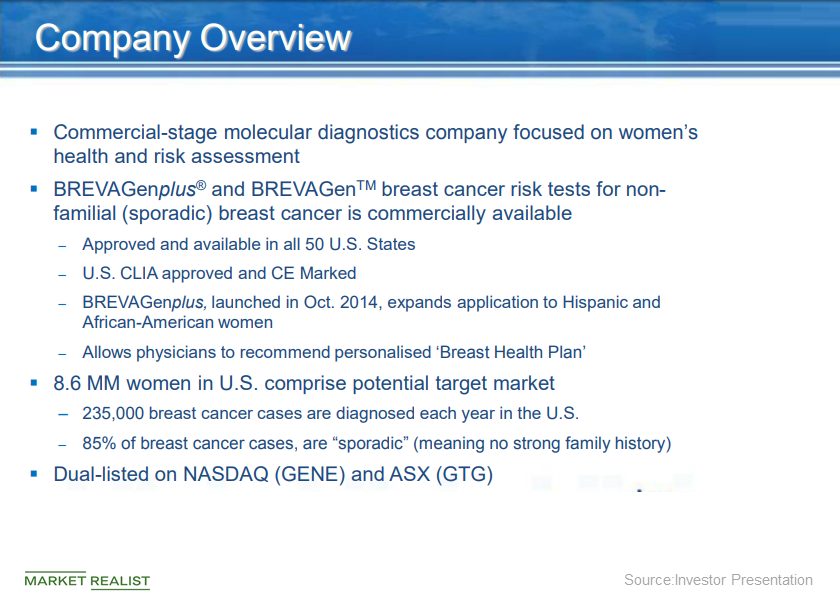 Genetic Technologies Stock Up on Genetic Test Update
By Sarah Collins

Jul. 16 2018, Published 1:30 p.m. ET
Genetic Technologies announced expansion and is on track impending launch of genetic tests
Today, Genetic Technologies (GENE) was trading over 70% higher than yesterday's closing price of $1.09. The stock jumped ~72.5% in premarket trading. The stock price and volumes rose on the news of the company's on-track breast cancer and colorectal cancer risk assessment tests, slated for release in October. The company also announced the expansion of its genetic risk assessment tests, which are to include melanoma, prostate cancer, cardiovascular disease, and type 2 diabetes. These tests are expected to be available over the next 12 months.
Article continues below advertisement
Management weighs in
As per Genetic Technologies chairman and CEO, Dr. Paul Kasian, "This is a very exciting time for GTG. We are now offering an opportunity for doctors to improve their ability to assess a patient's breast cancer risk. Our new test, when combined with BRCA testing, will account for almost 100% of breast cancers. Currently BRCA testing alone only accounts for 5 to 10% of breast cancers.  Added to this our expanded range of tests will allow doctors to assess a patient's risk to some of the most common causes of morbidity and mortality."
Genetic Technologies' key products
Genetic Technologies is a diversified molecular diagnostics firm. The company offers predictive technology and risk assessment tests for the better management of women's health. It's also working on adopting blockchain technology across its genomic testing platform. The company's lead product is BREVAGenplus, a risk assessment test for non-hereditary breast cancer that launched in 2014.