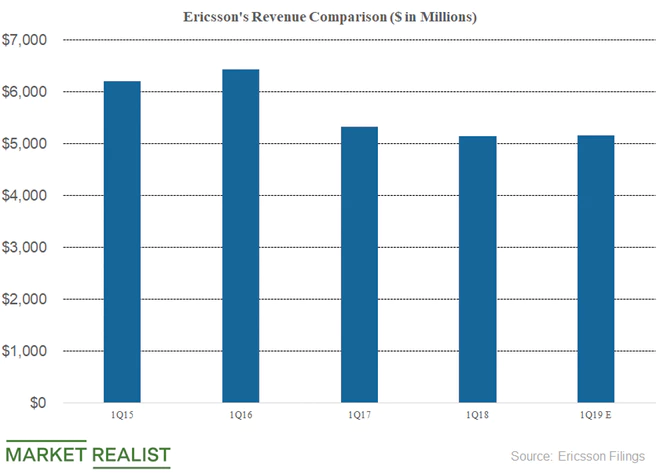 Factors that Impacted Ericsson Stock in H1 2018
By Adam Rogers

Dec. 4 2020, Updated 10:53 a.m. ET
ERIC stock has risen 17% this year
In the next few articles, we'll look at the stock performance metrics of communications equipment companies in 2018 year-to-date. Ericsson (ERIC) stock has returned 17.0% in the first half of 2018. The stock closed at $7.67 on June 29. Ericsson beat its earnings estimates in the first quarter by 133.0%, and it beat estimates in the fourth quarter of 2017 by 67.0%.
Analysts have a median price target of $27.00 for Ericsson, which indicates that the stock is trading at a premium of 6.0% to analyst estimates. Ericsson stock rose 17.0% after the firm reported impressive first-quarter results, which were driven by a turnaround strategy that resulted in expanding profit margins. This trend seems to have increased investor confidence and drove its stock price higher.
Article continues below advertisement
Growth drivers
Looking forward, Ericsson is banking on the evolution of 5G technology and IoT (Internet of Things) to drive future revenues. Ericsson's Mobility Report has estimated that 5G subscriptions could reach 1.0 billion by 2023 and cover 20.0% of the global population.
Ericsson is focused on reducing costs, and analysts expect the firm's EPS to rise at a CAGR (compound annual growth rate) of 1.4% over the next five years, compared to a decline of 36.0% in the last five years. Its operating margins have improved significantly YoY (year-over-year) from -20.0% in the first quarter of 2017 to 2.0% in the first quarter.
The firm expects to achieve operating margins of ~10.0% by the end of fiscal 2020. Ericsson has attributed the improvement in its profit margins to its cost-saving efforts. It has increased sales of high-margin products in its Networking segment and has identified several contracts in Managed Services to exit, renegotiate, or transform.
Analysts expect Ericsson's revenues to fall 3.4% YoY to ~$22.8 billion in fiscal 2018 and 0.9% YoY to ~$22.6 billion in fiscal 2019. The company's earnings per share are estimated to fall 6.0% to $0.16 in fiscal 2018 and then rise 100.0% to $0.32 in fiscal 2019.