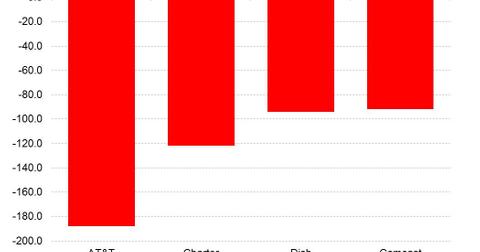 Facebook's Video Ambitions Cause Friction with Media
By Neha Gupta

Updated
Disney drops Facebook executives
Although Walt Disney (DIS) counts among American media giants whose broadcast divisions have partnered with Facebook (FB) for its Watch video news programming, the chemistry between Facebook and Disney isn't perfect. The first half of 2018 brought more insights into the growing friction between traditional media companies and their technology counterparts.
Last year, Disney announced that it was pulling its movies and shows from Netflix (NFLX) because it was preparing to launch its own streaming services that would compete with Netflix and other streaming services. In January, Disney then announced it was dropping Facebook and Twitter (TWTR) executives from its board due to growing conflicts of interest between it and the technology companies.
Article continues below advertisement
Facebook bidding for more television ad dollars
Looking to pull more television advertising budgets, Facebook, Twitter, and Google (GOOGL) have been expanding their video programs, usually at the chagrin of traditional media companies such as Disney and Comcast (CMCSA), which are losing pay-TV subscribers. Cable providers Dish and AT&T (T) have also been struggling with pay-TV customer losses, as shown in the chart above.
Facebook's advertising revenue grows 50%
At Twitter, the aggressive video push in recent years has meant that video now accounts for more than half of the company's total advertising revenue. At Facebook, advertising revenue grew 50% to $11.8 billion and represented over 90% of total revenue in the first quarter.