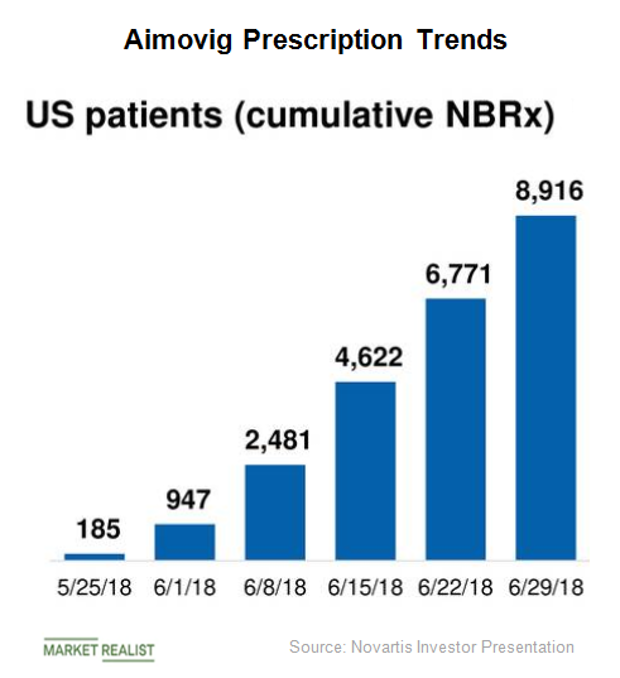 Entresto and Aimovig: Long-Term Growth Drivers for Novartis
By Margaret Patrick

Aug. 1 2018, Updated 10:31 a.m. ET
Entresto adoption drivers
On May 28, Novartis (NVS) announced positive real-world evidence from CHAMP-HF registry that highlighted the improvement in health reported by those patients suffering from chronic heart failure and reduced ejection fraction (or HFrEF). These patients were treated with Entresto compared to those who did not take Entresto. 
The quality of life and frequency of symptoms for these patients was measured with the 12-item Kansas City Cardiomyopathy Questionnaire (or KCCQ-12) overall summary score.
Article continues below advertisement
In addition to this real-world data, Novartis expects to witness interim data from the PARAGON-HF study. This study evaluated the impact of Entresto on mortality and morbidity of patients suffering from heart failure with preserved ejection fraction the third quarter. The company expects this trial to conclude in 2019.
Novartis also expects data readouts from several phase 4 trials in the second half of 2018. These supporting claims are expected to boost the adoption of Entresto in the coming years.
Aimovig's growth trends
On May 17, Novartis's migraine prevention drug, Amovig, secured approval from the FDA. Launched in the second quarter, this first-in-class drug has witnessed a solid uptake in the US market due to robust unmet demand from patients. Novartis has already secured a place for the drug on formularies of pharmacy benefit managers such as Express Scripts and payers like Anthem.
This underserved need for a migraine preventive therapy is also expected to help strengthen the position of the drug in the European market, after the approval from the European Medicines Agency expected in the third quarter. 
In May, the Committee for Medicinal Products for Human Use (or CHMP) has already issued a positive recommendation for Aimovig as migraine prophylaxis therapy. Novartis has secured regulatory approval for marketing Aimovig in Switzerland and completed registration in Australia on July 3.
In the next article, we'll discuss Novartis's oncology portfolio.