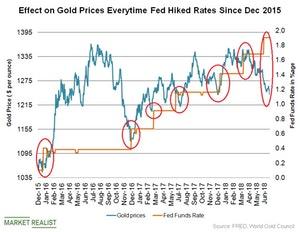 Did Fed Rate Hikes Impinge on Gold Prices?
By VanEck

Updated
VanEck
Following Rate Hike, Gold Could Rally
The gold price has shown weakness ahead of every Fed rate increase since the hiking cycle started in December 2015. Gold has also rallied immediately after every rate increase, except for two. In June 2017, gold continued to fall after the Fed rate decision, but then rallied following the July 4th holiday week. Again this year, gold continued to fall after the June rate hike and into the week of the holiday. Positioning in the futures market suggests gold is oversold, so we expect to see another delayed rally once the thin holiday trading has passed.
Article continues below advertisement
Market Realist
Do rate hikes have any effect on gold prices?
Since December 2015, the Federal Reserve has increased interest rates as a result of rising inflation and strong job numbers in the US. The Fed raised rates for the first time in 2015. Then in 2016, the Federal Reserve hiked rates again in December. In 2017, there were three rate hikes. This year, there have been two rate hikes up until June. During the June FOMC meeting, the Fed increased the benchmark short-term interest rate by a quarter percentage point. The Fed also indicated two more rate hikes in 2018.
As you can see in the chart above, gold prices plummeted before the Fed announced rate hikes and have surged back after the hikes. Many investors believe that higher interest rates could pressure gold prices, as they make the bond market look attractive. However, empirical evidence hasn't proven a correlation between interest rates and gold prices.
It's not just interest rates that drive gold prices. There are various other factors that affect gold prices like the US dollar, inflation, central bank policies, consumer demand, supply dynamics, and gold production. Thus, the effect of these factors on gold should be considered before making investment decisions about gold (GLD) (GDX) (GDXJ).