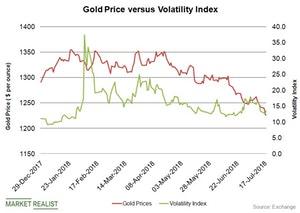 Can Trade and Tariff Policies Brighten the Outlook for Gold?
By VanEck

Jul. 24 2018, Published 10:32 a.m. ET
VanEck
Impact of Trade and Tariffs Could Support Gold
Gold was also caught in the June metals selloff. Copper and zinc suffered sharp falls amid concerns that the Trump administration's tariff policies will likely dampen demand. While trade policies have adversely affected a number of companies, there is not yet evidence that they are affecting the broader economy or creating additional inflationary pressure. We believe gold will not react positively unless markets see this broader systemic risk emerge. Harley-Davidson announced plans to move some production to its local markets to avoid tariffs. This might become the start of a trend that places the global economy at risk. The Wall Street Journal found that a car costs 50% more in Brazil than a comparable model does in Mexico due to Brazilian protectionist rules that require cars to be assembled in the country. Also, the strong U.S. dollar and stimulative fiscal policies are creating import demand that might be temporarily masking the adverse effects of tariff policies.
Article continues below advertisement
Market Realist
How tariffs are affecting gold
In March this year, President Trump announced a 25% tariff on imported steel and a 10% tariff on imported aluminum. In retaliation, China and Europe also announced some tariffs on American products. In June, President Trump again threatened to impose 20% tariffs on European cars. On July 10, President Trump's administration announced another set of tariffs on Chinese products including electronics, textiles, auto parts, and metal products. The ongoing tariff attacks have spiked fears of a global trade war among these nations.
The chart above shows the performance of gold prices against the Volatility Index. The Volatility Index (VIXY) (VXZ) measures uncertainty in the stock market. Gold tends to perform better when the market is tumbling, which is evident in the chart above. As the volatility index rises, so do gold prices (GLD) (GDX) (GDXJ) and vice versa.
The spike in trade war concerns could affect economic growth, thus hurting the dollar's performance. The trade war could also continue to affect stock market growth, which has been steady up until now. Stock market weakness could be beneficial for gold, as empirical evidence has shown gold tends to perform better during market downturns. Thus, investors should monitor rising trade war concerns and look out for opportunities to invest in gold.