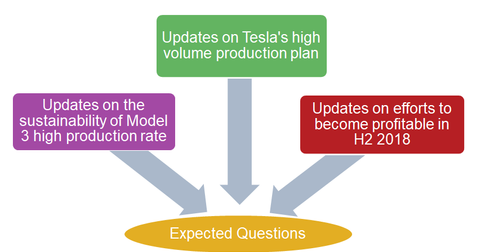 Can Musk Keep His Cool on Tesla's Q2 2018 Conference Call?
By Jitendra Parashar

Updated
Musk versus analysts
During Tesla's (TSLA) first-quarter earnings conference call, analysts had to deal with some unexpected behavior from CEO Elon Musk when Musk behaved in a way that some felt was rude. During the call, he ignored two analysts' questions, saying, "Boring bonehead questions are not cool. Next," and, "Sorry. These questions are so dry. They're killing me."
A couple of days after the call, Musk provided justification for ignoring the analysts in a series of tweets.
Article continues below advertisement
Negative stories on Tesla
Key questions for the second-quarter call
During the company's 2018 shareholder meeting, Musk said that Tesla doesn't expect to need to raise any incremental debt or equity. On July 23, however, a Wall Street Journal report claimed that TSLA was "asking its suppliers for cash back to help it become profitable." The report cited "a memo reviewed by The Wall Street Journal that was sent to a supplier last week."
Now that the Wall Street Journal has revealed the company's internal communications with its suppliers, Musk might have to face analysts' questions regarding TSLA's efforts to ensure profitability in the second half of 2018 during the call.
Progress on the company's ability to sustain a high Model 3 production rate, as we discussed in the previous article, could also remain in focus during the conference call.
It will be interesting to see how Musk handles analysts' questions during the call—and whether he keeps his cool after attracting sharp negative media publicity for his earlier behavior.
Tesla is the only publicly listed US auto company (XLY) that makes only electric vehicles, unlike its peers General Motors (GM), Ford Motor Company (F), and Fiat Chrysler Automobiles (FCAU), which primarily sell gasoline vehicles.
Next, we'll see how Tesla's valuation multiples are trending.