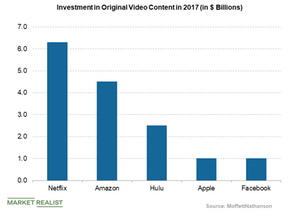 Can Microsoft Gain from Movies and TV Apps for Mobiles?
By Sophia Nicholson

Updated
Microsoft to offer apps to mobile platforms
Microsoft (MSFT) is working on making movies and TV services for Android and iOS, according to a report by Windows Central. Currently, Microsoft's apps are exclusively available to Windows 10, Windows 10 Mobile, and Xbox consoles through the Microsoft Store. However, users will soon find the company's app on the most popular mobile platforms.
The tech giant is making efforts to develop dedicated apps for iOS[1. formerly iPhone operating system] and Android to attract more customers to buy digital movies and TV shows on the Microsoft Store.
Article continues below advertisement
Microsoft wants to attract users to Microsoft Store
After the shift from Windows 10 Mobile, Microsoft has been making efforts to bring the best of the apps of Windows 10, including Edge and Microsoft Launcher, to iOS and Android. The two apps could get millions of downloads from the Apple and Google app stores. Microsoft is also planning to make movies and TV apps available to mobile devices to serve all movie lovers.
The company also notified users that they can switch from a Windows phone to an Android device in 2018 and continue using most of Microsoft's software and services.
Growing popularity of streaming giants
Microsoft's video content offering could struggle to gain users amid the growing demand for online streaming content provided by Netflix (NFLX) and Amazon (AMZN). In 2017, Netflix spent $6 billion to launch 30 new original shows, while Amazon spent $4.5 billion on original and acquired content. Online streaming service Hulu also invested $2.5 billion on content in 2017, while Apple and Facebook (FB) allocated $1 billion last year to acquire new content.
However, according to reports, there is some video content not offered by online video streaming subscription services but still available on the Microsoft Store, iTunes, and other digital storefronts. Microsoft also believes that a lot of people prefer to buy digital movies and TV content and that it can offer them a massive content through iOS and Android phones.