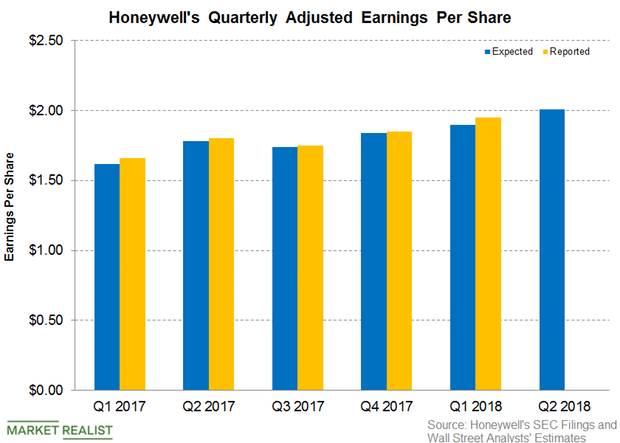 Can Honeywell Beat Analysts' Adjusted EPS Estimate in Q2 2018?
Honeywell's Q2 2018 adjusted EPS estimate
Honeywell (HON) is expected to post adjusted EPS of $2.01 in Q2 2018, implying an increase of 11.7% year-over-year. In Q1 2017, HON reported adjusted EPS of $1.80. We'll have to wait and see if it can continue to beat analysts' estimates in Q2 2018. In the past five quarters, HON has exceeded Wall Street's expectations.
Honeywell's projected adjusted EPS for Q2 2018 is expected to be primarily driven by increased revenue, reduced operating expenses as a percentage of sales, and share repurchases. Analysts have estimated HON's Q2 2018 COGS (cost of goods sold) at $7.3 billion, representing 67.4% of what it has projected for Q2 2018. Its COGS in Q2 2017 stood at 68%, so 67.4% would be a contraction of 60 basis points on a year-over-year basis. It should be noted that HON expects a minor impact due to import tariffs on steel and aluminum as a result of the trade war between the United States and China.
HON's SG&A (selling, general, and administrative) expenses as a percentage of revenue is also expected to decline. Analysts expect SG&A expenses of $1.42 billion in Q2 2018, representing 13.1% of its projected sales and marking a 60-basis-point improvement from 13.7% of projected sales in Q1 2017.
Article continues below advertisement
Share buybacks
At the end of Q1 2018, HON's outstanding shares stood at 761 million. With its strong free cash flows, the trend is expected to continue in Q2 2018. Analysts expect the number of outstanding shares to be 759.2 million. At the end of Q2 2017, outstanding shares stood at 764.2 million. However, HON might choose to return more capital to its shareholders in the form of share repurchases and improve its EPS.
Investors can indirectly hold HON through the Industrial Select Sector SPDR ETF (XLI), which has invested 4.8% of its portfolio in Honeywell. The fund also provides exposure to Boeing (BA), 3M (MMM), and General Electric (GE) with weights of 8.6%, 5.2%, and 5.2%, respectively, as of July 17.