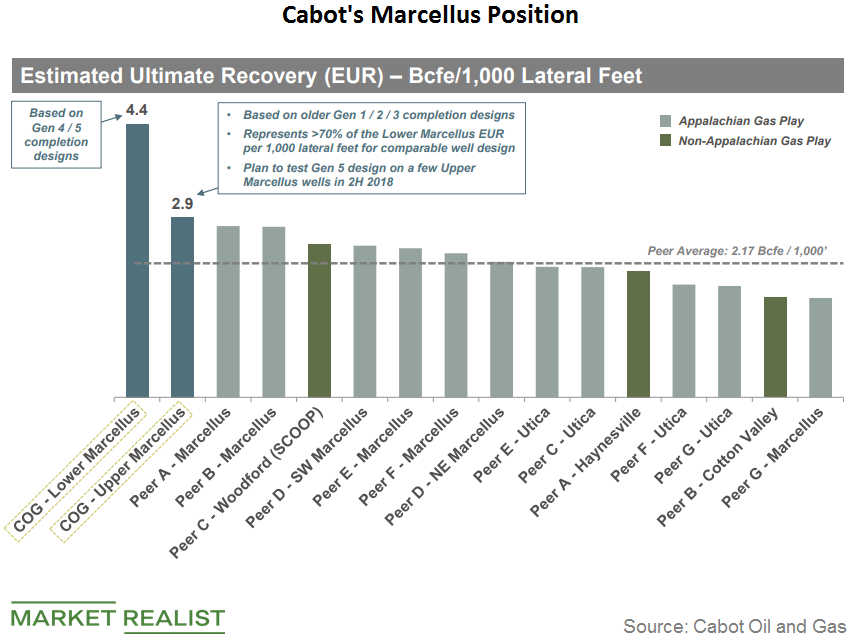 Cabot Oil & Gas's Marcellus Position: Differentials and Economics
Cabot Oil & Gas's Marcellus position
According to data provided in a presentation released by Cabot Oil & Gas (COG) earlier in June, the company's EUR (estimated ultimate recovery) was the highest compared to its peers in the Marcellus Shale.
Cabot Oil & Gas selected peers for comparison—Antero Resources (AR), Eclipse Resources (ECR), EQT (EQT), Chesapeake Energy (CHK), Gulfport Energy (GPOR), Range Resources (RRC), and Southwestern Energy (SWN).
Article continues below advertisement
Economics
As you can see in the above graph, Cabot Oil & Gas's EUR per 1,000 feet of lateral is 4.4 Bcfe (billion cubic feet equivalent)—compared to the peer average of 2.17 Bcfe per 1,000 feet of lateral. The lower EUR of 2.9 Bcfe reported in the upper Marcellus was based on old well completion designs. The company plans to test new well completion designs (currently being carried out in the lower Marcellus) in the region in the second half of 2018.
Differentials
Currently, increased natural gas production from the Marcellus is constrained by the lack of available takeaway pipeline capacity to move it to new markets.
Improved takeaway capacity could grow the Marcellus production volumes for producers including Cabot Oil & Gas.
As we saw in the previous part of this series, the Atlantic Sunrise project and the PennEast pipelines could play a vital role in increasing Cabot Oil & Gas's production in the Marcellus Shale. The pipeline projects could add incremental volumes of 1.05 billion cubic feet per day and 150 million cubic feet per day to Cabot Oil & Gas's production volumes in the Marcellus.