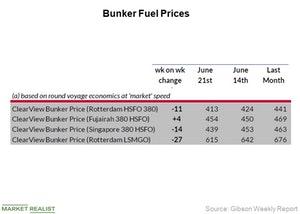 Bunker Fuel Prices and Crude Oil Prices Fell in Week 30
By Sue Goodridge

Jul. 31 2018, Updated 1:20 p.m. ET
Bunker fuel prices
Previously in this series, we saw that crude tanker stocks gave mixed returns in week 30—the week ending July 27. However, VLCC (very large crude carrier) and Aframax rates rose. In this part, we'll see how bunker fuel prices fared last week.
Article continues below advertisement
Oil prices
For the week ending July 27, oil prices rose 2%. Oil prices were supported by EIA's (U.S. Energy Information Administration) weekly report. According to the EIA's report, US crude oil inventories and gasoline inventories declined by 6.1 MMbbls (million barrels) and 2.3 MMbbls, respectively.
Prices last week
On July 19–26, bunker fuel's average price rose from $478.5 per ton to $494.5 per ton. According to the Gibson report, the bunker fuel prices at Rotterdam rose from $416 per ton to $430 per ton. The bunker fuel prices at the Port of Fujairah rose from $441 per ton to $451 per ton.
Which companies were impacted?
Ships that transport commodities, like liquefied natural gas carriers, product tankers, dry bulk carriers, and crude oil (DBO) tankers, incur bunker fuel costs. Bunker fuel prices are closely related to oil prices.
Crude tanker companies that operate vessels in the spot market also incur bunker fuel expenses. Of Tsakos Energy Navigation's (TNP) 65 vessels, only 16 operate in the spot market. Meanwhile, most of Nordic American Tankers' (NAT) fleet operates in the spot market. Of Nordic American Tankers' 33 vessels, 28 operate in the spot market.
Crude tanker companies record these costs as "voyage expenses." In 2017, Euronav's (EURN) voyage expenses represented 11.5% of its total operating expenses. Teekay Tankers' (TNK) voyage expenses represented 18.0% of its total operating expenses.