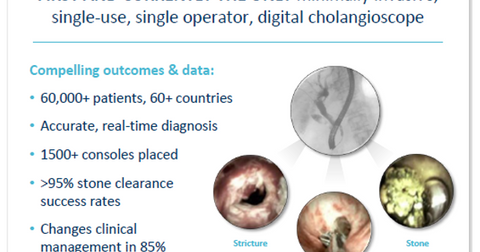 Boston Scientific: Standard of Care in Pancreaticobiliary Disease
By Margaret Patrick

Updated
SpyGlass DS System
Boston Scientific (BSX) aims to transform the standard of care in its pancreaticobiliary disease segment through its SpyGlass DS System and its AXIOS transluminal stent.
The SpyGlass DS System is the first minimally invasive single-use and single operator cholangioscope to be approved by the FDA. In the first quarter, Boston Scientific also launched the next-generation SpyGlas DS II Visualization System, which has higher resolution optics, as well as other cholangioscopy tools that can pass through SpyGlass. These include lithotripsy devices, baskets, and snares.
According to Boston Scientific, about 1 million endoscopic retrograde cholangiopancreatography procedures are performed in the United States annually. That highlights the scale of market opportunity available for the SpyGlass DS System.
The above diagram shows how visualization inside the bile duct in the pancreas and thus treatment have improved through the use of the SpyGlass DS System.
Article continues below advertisement
AXIOS transluminal stent system
Boston Scientific's AXIOS stent is designed to act as a bridge between two lumens or two organs to drain fluid from one organ and into another, thus removing fluid safely. The stent is currently approved by the FDA in indications such as pseudocyst drainage, endoscopic ultrasound of the gallbladder and bile duct drainage, and walled-off necrosis. It is also being explored in other indications such as type 2 diabetes, obesity, removing fluids from an inflamed gallbladder, and gastric outlet obstruction.
With around 600,000 laparoscopic cholecystectomies performed annually in the United States, AXIOS, if approved, may provide an alternative to a significant portion of those patients and help them keep their gallbladders. Boston Scientific has already secured approval for AXIOS in the gallbladder indication in Europe and is working to get FDA approval in the United States.
Performance in Q1 2018
In Q1 2018, Boston Scientific's endoscopy business reported sales of $418 million, which is a YoY (year-over-year) growth of 10.2% on a reported basis and 6.2% on an operational basis. Growth was driven by the solid adoption of the SpyGlass DS visualization system, the AXIOS transluminal stent, and the RESOLUTION 360 hemostasis.
In the next part of this series, we'll look at Boston Scientific's efforts to penetrate other high-growth opportunities in its endoscopy segment.