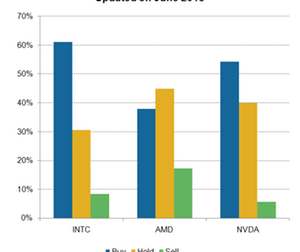 Bernstein and Nomura Instinet Downgrade Intel
By Puja Tayal

Updated
Bernstein
Some Wall Street analysts have grown bearish on Intel (INTC) after CEO Brian Krzanich's recent resignation. According to a June 26 report by The Street, Bernstein analyst Stacy Rasgon lowered his price target on Intel by 22.0% from $54.00 to $42.00, representing a downside of 15.5% from its current trading price. 
This downgrade comes after Rasgon, who has been bearish on the stock for a long time, upgraded the stock in April when the company reported better-than-expected earnings guidance.
Article continues below advertisement
Ragson wrote, "Frankly, we have been regretting [Intel's upgrade to market-perform]; not necessarily from the perspective of the stock, but rather that it is becoming increasingly that the structural issues we have promulgated for years are becoming ever obvious to investors. And now, we believe uncertainty around the CEO change provides an opening, limiting risk if numbers continue to move up for the time being, while these structural issues grow more visible."
Some of these structural issues included growing competition from Advanced Micro Devices (AMD) in the PC and server market and major customers like Apple designing chips in-house. These factors brought Intel back to its historical price multiples. However, Bernstein analyst Mike Burton stated that Intel's data center business is doing well with investments in 3D NAND/XPoint and FPGAs (field+programmable gate arrays).
Nomura Instinet
According to CNBC, Nomura Instinet analyst Romit Shah lowered his price target on Intel from $60.00 to $55.00, representing an upside of 10.0% from its current trading price. He believes that the leadership gap could add to Intel's already uncertain long-term growth.
Intel's delay in the launch of 10nm (nanometer) node to 2019 appears to be eroding its leadership in the manufacturing technology, giving way to rival AMD to gain market share. AMD plans to launch its 7nm server chips in late 2018.
Shah stated that during a recent meeting, Krzanich told him that the company might lose some server processor market share to AMD by the end of 2018. AMD expects to gain a mid-single-digit share in the server processor market from its current share of less than 1.0%.
Next, we'll review Krzanich's contributions to Intel's growth.
Check out all the data we have added to our quote pages. Now you can get a valuation snapshot, earnings and revenue estimates, and historical data as well as dividend info. Take a look!