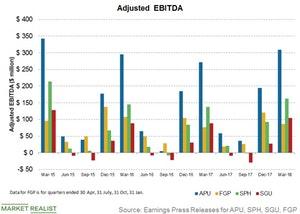 APU, FGP, SPH, and SGU: What Do Earnings Trends Indicate?
By Rekha Khandelwal, CFA

Jul. 13 2018, Updated 11:10 a.m. ET
AmeriGas Partners' EBITDA
AmeriGas Partners (APU) lowered its adjusted EBITDA guidance range for the fiscal year ending September 30 from $650 million–$690 million to $625 million–$645 million. The company's adjusted EBITDA for fiscal 2017 was $551 million.
Article continues below advertisement
Seasonal variation
Propane distribution companies' earnings have significant seasonal variation. The above graph shows the adjusted EBITDA for the four companies—AmeriGas Partners, Ferrellgas Partners (FGP), Star Group (SGU), and Suburban Propane Partners (SPH)—in the past three years.
As the above graph shows, the earnings are highest in the quarter ending March 31, which includes the winter heating season. Ferrellgas Partners' EBITDA is comparatively spread over the December and March quarters. The company's comparable December-ending quarter ends on January 31.
As the graph shows, all four of the companies generated a higher adjusted EBITDA in the latest quarter—compared to the comparable quarter in 2017.
Yearly performance
Ferrellgas Partners' adjusted EBITDA fell 30% in the fiscal year ended in September 2017 due to decreased contributions from its midstream operations. Star Gas Partners' adjusted EBITDA for the fiscal year ended in September 2017 fell 15% mainly due to higher operating expenses. AmeriGas Partners and Suburban Propane Partners' adjusted EBITDA grew 2% and 9%, respectively, in fiscal 2017—compared to the previous year.
Next, we'll discuss the four companies' capital plans.