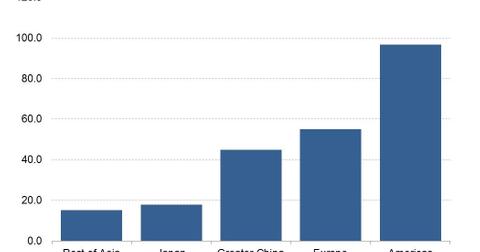 Apple Helped Create 1.7 Million Jobs in Europe
By Ruchi Gupta

Updated
1.7 million jobs in Europe
Apple (AAPL) recently released details of its economic impact in Europe. The company noted that it sees a bright future for its business in Europe.
Citing a newly launched Apple website, the Independent reported that Apple says it has helped create more than 1.7 million jobs across Europe. The jobs include people employed directly by Apple and its European supplies as well as job opportunities created by its App Store platform.
Article continues below advertisement
More than $23 billion paid out to European developers
Apple individually employs 22,000 people across Europe. Its suppliers in the region employ ~170,000 people due to their involvement with Apple. Last year, Apple spent more than $12.0 billion with European suppliers. The rest of the jobs created through Apple's presence in Europe are credited to the App Store.
About 28.0 billion apps were downloaded from Apple's App Store last year, up from 26.0 billion apps downloaded in the previous year, according to Sensor Tower estimates.
Apple noted that it has paid more than $23.0 billion to App Store developers in Europe over the last ten years. That's nearly a quarter of the revenues that the App Store has generated for developers worldwide since it launched in 2008.
European revenues rose 10%
Europe is Apple's largest international market. The company's European revenues grew 10.0% to $54.9 billion in 2017 and represented 24.0% of its total revenues in the year. Apple, Facebook (FB), and Google parent Alphabet (GOOGL) generally rely on overseas markets such as Europe for the majority of their revenues.
Despite its huge economic impact, Apple's presence in Europe has resulted in some friction with the taxing authorities. American multinationals Amazon (AMZN) and McDonald's (MCD) have also faced tax issues in Europe.