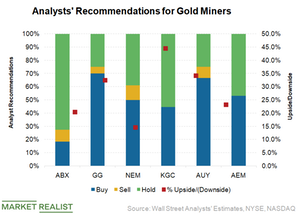 Analysts Have a Mixed View of Gold Miners ahead of Q2 Earnings
Market sentiment
In this article, we'll look at the recent ratings and recommendations from Wall Street analysts for gold miners ahead of their second-quarter earnings results. These ratings reflect analyst' sentiment toward a particular company or industry. At extreme levels, these ratings could even signal a change in direction, so it's important for investors to track this data.
Article continues below advertisement
Ratings and rationale
In the senior and intermediate gold miner space (GDX)(GDXJ), analysts are the most bullish on IAMGOLD (IAG), with 75.0% of analysts assigning it a "buy." Plus, 25.0% rated it as a "hold," and there were no "sell" ratings.
There has been a significant turnaround in analysts' sentiment for the stock. Until December 2017, only 54.0% of analysts were recommending "buys" on the stock. Along with strong operating results, the company has multiple organic growth opportunities.
Goldcorp (GG) comes next with 70.0% "buy" ratings and 25.0% "hold" ratings. Analysts' sentiment toward GG stock has been improving. At the end of December 2017, it had "buy" ratings from 60.0% of analysts. Since the start of 2018, Goldcorp's major upgrades have come from Credit Suisse, TD Securities, and Canaccord Genuity. However, there haven't been any downgrades year-to-date.
Yamana Gold (AUY) ranks third with 69.0% "buy" ratings and 23.0% "hold" ratings. Yamana's "buy" ratings have improved to the current level of 69.0% from 50.0% at the end of March. Analysts are most likely optimistic about the company's Cerro Moro mine, which started production in April. The first ore was fed to the mill on April 25. The startup of the mine is progressing well, and the milling rates and feed grades are expected to ramp up through the second quarter.
Article continues below advertisement
Newmont Mining (NEM) and Agnico Eagle Mines (AEM) follow with "buy" ratings from 53.0% and 63.0% of the analysts, respectively. While the analyst sentiment has worsened for Newmont Mining, Agnico Eagle Mines has been finding favor with them. NEM's "buy" ratings have declined from 61.0% at the start of the year to 53.0%. The ratings for AEM have improved from 50.0% to 63.0%.
Analysts believe that most of the positive factors such as strong project pipeline are priced into Newmont Mining. Agnico Eagle Mines has been consistent in its operational performance and has demonstrated strong execution.
Lowest "buy" ratings: EGO and NGD
Among the senior and intermediate miners, Eldorado Gold (EGO) and New Gold (NGD) have the fewest "buy" ratings at 15.0% each.
Barrick Gold (ABX) is marginally above them with 18.0% "buy" and 68.0% "hold" ratings. The company's number of "buy" recommendations has fallen consistently over the last year. One year ago, 48.0% of analysts recommended "buys" on its stock.
While analysts are all praise for Barrick Gold's significant deleveraging, the issues at its mines are persistent. Moreover, Barrick Gold's production profile is expected to be weak for the next few years.
For a detailed analysis of senior and intermediate miners' ratings, see Five Gold Stocks Analysts Love—and Five They Don't.
In the next part of this series, we'll look at the revenue estimates for these miners.