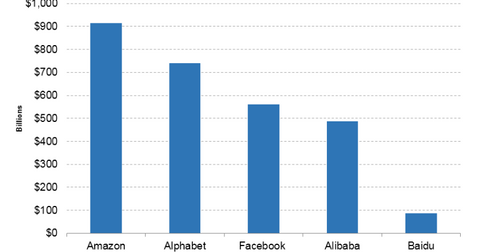 Amazon Stock under the Microscope
By Neha Gupta

Updated
A look at Amazon's enterprise value and related multiples
Amazon (AMZN) reported an enterprise value (or EV) of $913.8 billion for 2017. Among its peers, Alphabet (GOOG), Facebook (FB), Alibaba (BABA), and Baidu (BIDU) have enterprise values of ~$738.9 billion, ~$562.1 billion, ~$487.01 billion, and ~$87.2 billion, respectively, in the same period.
Amazon's EV-to-adjusted-EBITDA multiple for the trailing 12 months computes to 51.5x, compared to its EV-to-EBITDA multiple of 30.7x expected in 2018. Amazon's EBITDA margin for 2017 was 9.0%.
Amazon's EV-to-sales multiple for the trailing 12 months is 4.7x, and its EV-to-sales multiple anticipated for 2018 is 3.1x.
Amazon's trailing-12-month EV-to-cash flow multiple was 50.04x. This compared with its trailing-12-month EV-to-free-cash-flow multiple of 170.6x.
Article continues below advertisement
Eye on Amazon's price multiples
Amazon's book value per share works out to $65.01, while its estimated book value per share is $82.90. The stock is trading at a price-to-book value of 27.9x.
The company's price-to-sales multiple is 4.6x for 2017, and its estimated price-to-sales multiple for 2018 is 3.7x.
Moving averages
On July 19, Amazon closed the trading day at $1,812.97. Based on this figure, here's how the stock fared in terms of its moving averages:
13.3% above its 100-day moving average of $1,600.00
7.6% above its 50-day moving average of $1,685.00
4.1% above its 20-day moving average of $1,742.00
Analysts' recommendations
Amazon was given a "buy" rating by 46 of the 48 analysts covering its stock. Two analysts recommended a "hold," and there were no "sell" recommendations. The analysts' price target for Amazon stock is $1,870.79, and its median price target is $1,900.00.