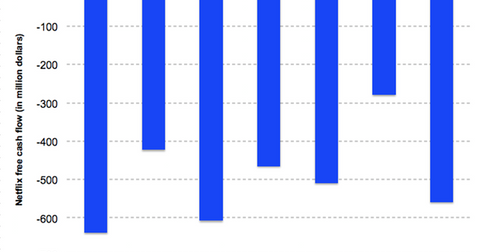 A Look at Netflix Stock after Its 13.5% Fall on July 17
By Sanmit Amin

Updated
Netflix stock tumbled after missing subscriber estimates
Netflix (NFLX) stock fell 13.5% in the early trading hours of July 17, as its subscriber additions for the second quarter came in much lower than expected. Investors don't value this stock using traditional metrics like earnings and revenues. Instead, Netflix's subscriber growth provides more information about the company's future than does its earnings growth.
Netflix's free cash flow was about -$550.0 million below its break-even point. Netflix is spending around half of its revenues on content this year, and the company notes that it plans to do so over the next few years.
Article continues below advertisement
What's ahead for Netflix in Q3 2018?
Netflix's third-quarter numbers are expected to be critical, as it expects to add only 5.0 million subscribers in the third quarter. If Netflix's subscriber growth continues to decelerate, the stock could fall, as current valuations have factored in a lot of optimism about the company.
However, Netflix stock bounced back 10.0% on Tuesday, July 17. This trend suggests that investors are viewing the decline as a chance to buy NFLX stock, which means they are still bullish on the stock.
The company is making significant investments in content. Netflix has $8.3 billion in long-term debt. It has also invested in increasing its non-English content library to attract more subscribers abroad. The company still has a lot of scope to expand abroad and has more room to increase its subscription rates.