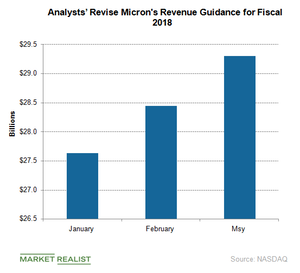 Will Micron's Fiscal 2018 Revenue Cross the $30 Billion Mark?
Micron's fiscal 2018 revenue guidance
Micron Technology (MU) has completed three quarters of fiscal 2018, and in each of these three quarters, it's expected to have reported record revenue. In fact, Micron has revised its revenue guidance upward twice in the past three quarters. If we add its fiscal Q3 2018 revenue estimate, Micron has so far earned estimated revenue of $22.0 billion in fiscal 2018.
These better-than-expected quarterly revenues have seen analysts increase their fiscal 2018 revenue estimates for Micron several times in the past few months.
Article continues below advertisement
In January, analysts expected Micron's fiscal 2018 revenue to rise 36% YoY (year-over-year). In February, they revised the growth rate to 40%. According to the latest estimates, analysts expect Micron's fiscal 2018 revenue to rise 44% YoY to $29.3 billion. With nine months of revenue at $22.0 billion, analysts expect Micron's fiscal Q4 2018 revenue to be ~$7.3 billion, a fall of 6% sequentially.
If DRAM prices continue to rise for another quarter, it's possible that Micron's fiscal 2018 revenue will cross $30 billion.
Micron's fiscal 2019 revenue guidance
Analysts even revised their fiscal 2019 revenue estimate for Micron. This revision came in light of better-than-expected growth for high-value memory solutions that command a higher price and high DRAM prices expected for the remainder of 2018.
Wall Street analysts have revised their fiscal 2019 revenue growth estimate for Micron from negative to positive. They now expect Micron's revenue to grow 3.7% YoY to $30.4 billion in fiscal 2019. These estimates will likely keep being revised upward until NAND (negative AND) and DRAM (dynamic random-access memory) prices hit a downturn.
Other DRAM manufacturers Samsung (SSNLF) and SK Hynix are also expected to report strong earnings, with Samsung expected to maintain its position as the world's largest semiconductor company by revenue in 2018.
Next, we'll look at Micron's earnings guidance.