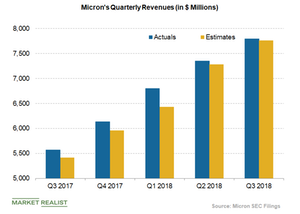 Will Micron Continue to Grow on Higher Demand for Memory Chips?
By Sophia Nicholson

Updated
Micron beat estimates in the third quarter
On June 20, Micron Technology (MU) reported strong quarterly results for the third quarter of fiscal 2018, which ended May 31. Its earnings and revenues beat Wall Street expectations and delivered YoY (year-over-year) growth.
The chipmaker posted adjusted EPS of $3.15 per share in the quarter, beating the estimate of $3.14. EPS also increased from $1.62 in the fiscal third quarter of 2017. Micron's revenues rose more than 40% YoY to $7.797 billion in the third quarter. Revenues exceeded analysts' expectations of $7.773 billion.
Growth drivers
Strong demand from data centers and cloud computing drove the impressive results and led to growth in sales of DRAM (dynamic random-access memory) and NAND (negative-AND) solutions. The company gained from a strong demand for its memory chips used in computers and smartphones amid tight supply. It managed to sell more memory chips at higher prices since more customers wanted to store data and apps for smartphones and since companies were shifting to the cloud.
Other DRAM manufacturers, including Samsung (SSNLF) and SK Hynix, have also posted strong profits in recent quarters, fueled by higher demand for memory chips.
DRAM revenue, which contributes 71% of total revenues for the quarter, rose 56% YoY. Sales from NAND products, which accounted for 25% of total revenues, led to a 14% YoY growth. The company's gross margins rose 81% to $4.7 billion in the quarter since the company expects to see benefits from higher volume, cost-per-bit reductions, and an improving mix of specialty DRAM and higher-end NAND chips.
Outlook
Micron anticipates fourth-quarter revenue of $8 billion–$8.4 billion and expects adjusted EPS of $3.23–$3.37.
DRAM prices are likely to rise for the rest of 2018. Industry players Hewlett Packard Enterprise (HPE) and HP (HPQ) have also factored in high DRAM prices for their outlooks for the remainder of 2018.