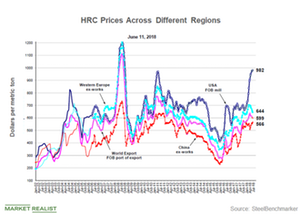 Why US Steel Prices Should Remain Supportive of Cliffs's Earnings
Pricing of contracts
The pricing of Cleveland-Cliffs's (CLF) contracts with ArcelorMittal (MT) and other customers depends on many variables, especially the price of US steel. Whereas US HRC (hot rolled coil) prices currently are at ~$900 per ton, during its Q1 2018 results, Cliffs had assumed a year-to-date average of $770 per ton on HRC prices to arrive at its expected US realized prices between $97 and $102 per ton. Based on current levels, Cliffs's guidance could have an upside potential.
Article continues below advertisement
Steel prices skyrocketing
US steel prices have surged this year after Donald Trump imposed tariffs on US steel imports. According to SteelBenchmarker, US HRC prices were $982 per metric ton on June 11. US steel prices have generally been among the highest in the world. However, the current spreads are at historical widths. Higher US steel prices are expected to boost earnings of US steelmakers such as U.S. Steel (X), AK Steel (AKS), Nucor (NUE), and Cleveland-Cliffs.
While there could be a possible correction in the prices going forward as the premiums to the rest of the world have skyrocketed, they are still expected to remain supportive of the steelmakers' earnings along with firm demand.
Steel demand
CLF's CEO, Lourenco Goncalves, mentioned during its Q1 2018 earnings call that the steel mill business is expected to remain strong this year and support prices "no matter what happens with Section 232."
In the next part of this series, we'll address the question of dividends for Cliffs's shareholders and how its balance sheet has strengthened in the last few years to the point it is at now.