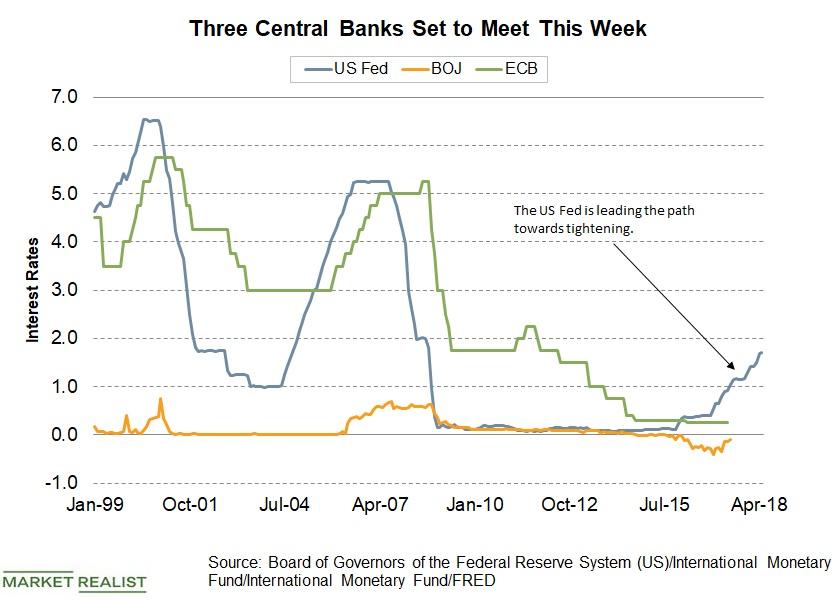 Why This Week Could Define the Direction of Monetary Policy
By Ricky Cove

Jun. 11 2018, Updated 1:27 p.m. ET
Three central banks set to meet
The central banks of the US, the EU, and Japan are scheduled to meet this week. The decisions of the US Fed and the European Central Bank (or ECB) will likely be in focus, as the Bank of Japan (or BOJ) is expected to keep policy unchanged. We'll discuss the US Fed's decision first. The US Fed is widely expected to increase rates by 25 basis points on Wednesday, and this information has likely been priced in already. The focus will likely be on the commentary regarding future rate hikes and how Fed members view rising inflation (TIP) and the current trade tensions. If members continue to be indifferent to inflation (VTIP) breaching the 2% target and advocate gradual rate hikes, markets are likely to not react to the statement. However, any hawkishness could lead to increased volatility in the bond (BND) and currency markets and could also impact the US equity (SPY) markets.
Article continues below advertisement
ECB could spring a surprise
Of the other two central bank statements, the ECB statement could be in the spotlight. There are no changes expected to policy at this meeting, but any hawkish comments about the recent upbeat inflation numbers could revive the tightening talk from the ECB. Traders might also want to assess how the ECB members are viewing the political turmoil in Europe and how those views could impact monetary policy. The BOJ meeting is likely to be uneventful, as there are no changes expected to policy, as inflation continues to be stubbornly below target.
Monetary policy divergence could dominate markets
If the US Federal Reserve continues to be the only major central bank on a path towards normalizing rates, the theme of policy divergence could dominate markets. In a scenario where the Fed continues with gradual rate hikes, the US dollar (UUP) could appreciate against other major currencies, and US bond yields could shoot up again. The pain of the higher US dollar could create further pressure on emerging markets, as their funding costs could soar higher. It all depends on how markets interpret central bank statements. There could be high levels of volatility before and during the statement release times and the press conferences that could follow.