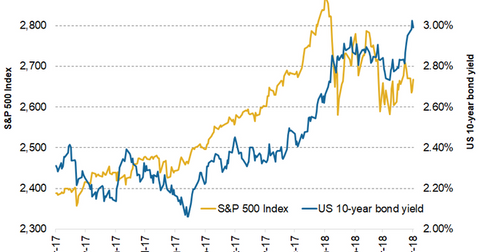 Why Jeffrey Gundlach Believes Gold Is a No-Brainer Right Now
By Anuradha Garg

Updated
Gold to break out
The bond king and CEO of DoubleLine Capital, Jeffrey Gundlach, believes it is only a matter of time before gold breaks out. He said, "We're at a juncture in gold, not surprisingly, because it is negatively correlated with the dollar….Now we see a massive base building in gold. Massive. It's a four-year, five-year base in gold. If we break above this resistance line, one can expect gold to go up by, like, a thousand dollars." He thinks that investing in gold at this price is a no-brainer.
Investors should note that Gundlach gave his technical reading about gold (GLD) in March, and it hasn't broken out of its downtrend yet. In fact, in May, it moved below the psychological level of $1,300 per ounce for the first time this year as the US dollar strengthened.
Treasuries not so attractive
Despite U.S. Treasury (TLT) yields crossing the 3% threshold, Gundlach doesn't think they are attractive. He believes the core Consumer Price Index and the Federal Reserve Bank of New York's underlying inflation gauge suggest that inflation in the United States will go higher, which could hurt government bond prices.
Weaker dollar outlook and gold
Previously, Gundlach noted that his weaker outlook for the US dollar (UUP) is behind his bullish gold outlook. He said, "When you get a lousy year in the dollar, like last year, it's very typically followed up by another year that's bad just after."
He believes that the SPDR S&P Oil & Gas Exploration & Production ETF (XOP) is worth a look since it hasn't yet reaped the full benefits of the crude oil rally. According to Gundlach, while historically the S&P 500 (SPY) and energy prices have been correlated, that is not the case this time, and there might be some catch-up due.