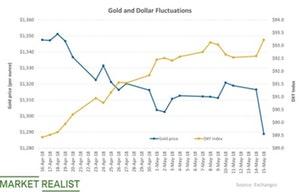 Why Is David Rosenberg Bullish on Gold? (Hint: Protectionism)
By Anuradha Garg

Updated
David Rosenberg: US protectionism should support gold
At the SIC (Strategic Investment Conference) 2018, David Rosenberg, Gluskin Sheff's chief economist, offered his take on the current dynamics in the global markets, existing risks, and the role of gold as a hedge in this environment. Rosenberg is bullish on gold because of US protectionism. He thinks that will lead to pressure on the US dollar. He said, "We'll get a countertrend rally in the US dollar, maybe three to four percent, and then it's going to go right back down again. Because you have a protectionist government, and part of that protectionism, what is a better tariff than just depreciate your currency?"
Article continues below advertisement
Talking down the US dollar
We've seen glimpses of this happening already. In April, President Donald Trump accused Russia and China of devaluing their currencies. Trump tweeted, "Russia and China are playing the Currency Devaluation game as the U.S. keeps raising interest rates. Not acceptable!" Many market participants believe Trump's tweet signaled that the United States wants a weaker US dollar (UUP).
Steven Mnuchin, the US Secretary of the Treasury, commented at the World Economic Forum in Davos, Switzerland, on January 17 about the advantages of a weaker dollar. The Trump administration could see a lower dollar as a way to combat trade imbalances.
Trump's protectionism measures include tariffs on steel and aluminum imports. A number of other tariffs are in the works to protect domestic US industries.
The dollar and gold
While the US dollar is currently on the rise, defying protectionism concerns given the otherwise strong state of the US economy, concerns could return and put pressure on the dollar. Any uncertainty in the market is good for gold prices (GLD). And since gold is denominated in the dollar, any weakness in the US dollar could result in higher gold prices.
Rosenberg thus recommends having some gold in your portfolio to hedge against a weak US dollar. When the dollar is weak, gold stocks (GDX), including Goldcorp (GG), Coeur Mining (CDE), Newmont Mining (NEM), and Iamgold (IAG), could benefit. These stocks have risen 8.5%, 1.9%, 1.5%, and 5.7%, respectively, year-to-date as of June 4, but not necessarily due to the dollar.