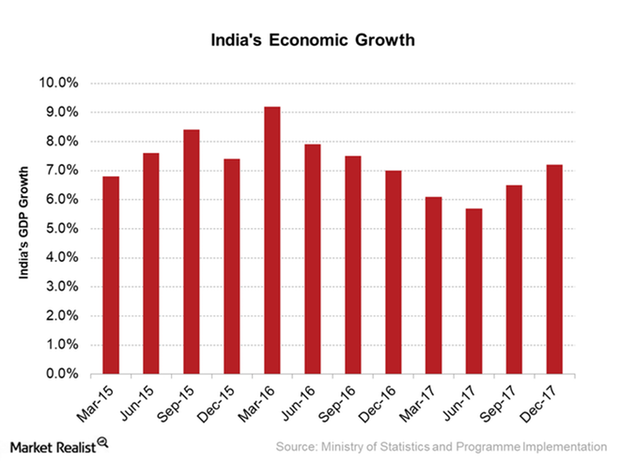 Why Emerging Market Stocks and Bonds Appear Attractive
By VanEck

Jun. 29 2018, Updated 2:15 p.m. ET
VanEck
GURUSHINA: But let's think about maybe more actionable items in terms of growth, because it's clear that at least there are now some signs on growth inflection, maybe not globally, but at least in some parts of the world. Global rates are going up. So what does it mean for emerging markets?
VAN ECK: I think about equity and debt very differently. On the debt side, especially now there's some pressure on EM debt, what we've basically said is if interest rates are going up, you want some kind of credit risk, either high yield or EM. So we like the asset class, maybe short term there are some pressures. On the equity side, you know, earnings are still good. Cash flow growth is good. And ultimately that drives equity markets. Also the currency exposure is much more tilted to Asia. It's almost 80% Asia—that's a very, very different currency profile. So we're still pretty enthusiastic about emerging market equities.
GURUSHINA: Thank you very much, Jan. Thanks for sharing your insights. And thank you very much for tuning in. For more insights from VanEck specialists, please go to vaneck.com/subscribe.
Article continues below advertisement
Market Realist
As the graph in the first part of this series showed, emerging-market equities (EEM) have been one of the worst-performing asset classes of this year so far.
Emerging-market equities have taken a beating under tightening financial conditions globally. Emerging market stocks continue to announce robust corporate earnings, coupled with improving balance sheets, especially in Asia. Emerging market equities look cheap, trading at 12x their forward earnings.
Higher commodity (DBC) prices have led to an improvement in the fiscal balances of some emerging markets.
Also, emerging market bonds (EMAG) currently offer attractive yields. Hard-currency emerging market debt yields have been increasing and are converging with local-currency emerging market debt yields. The former shields against the impact of the volatility of local currencies, which makes them less risky.