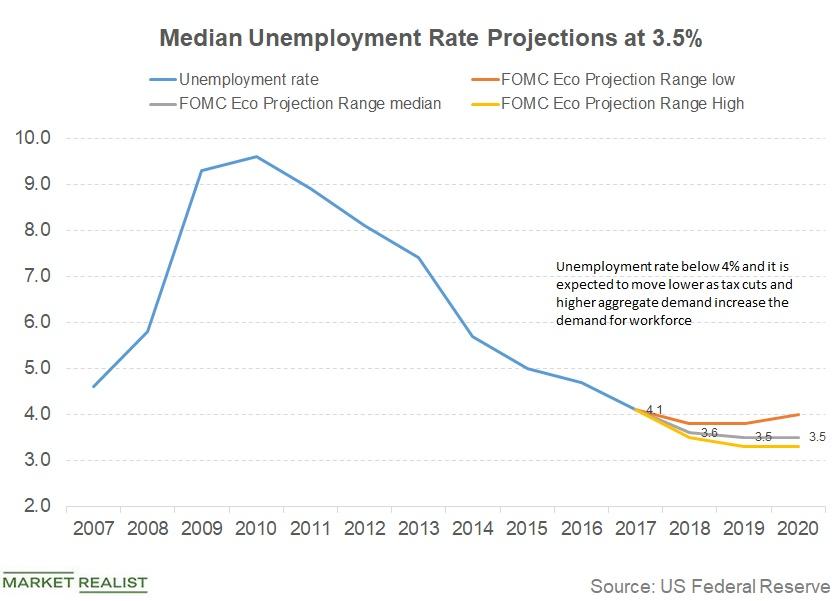 Why Does the Fed Expect Unemployment to Fall Further?
By Ricky Cove

Jun. 14 2018, Updated 1:15 p.m. ET
Job market outlook remains solid
The US Federal Reserve has a dual mandate of achieving maximum employment and stable prices (TIP) in the economy. In recent months, the US unemployment rate has moved to multiyear lows, and it looks set to fall further, as there are more jobs available than the number of job seekers, according to the recent Job Openings and Labor Turnover Survey. The strengthening of the job market was acknowledged in the June FOMC statement, and it remained the key reason for the Fed to comfortably tighten policy.
Article continues below advertisement
The US unemployment rate rose above 9% during the period of economic recession between 2007 and 2010. The US Fed's efforts toward an accommodative monetary policy, improving economic conditions in the United States, and corporate tax cuts have increased employment opportunities for the US workforce.
Projections for the employment market
The SEP (Summary of Economic Projections) report released along with the June FOMC statement indicated that FOMC members expect a further decline in the unemployment rate. As per the report, the median unemployment rate for 2018 is projected to be 3.6%, a fall of 0.2% compared to the March SEP report, and the median unemployment rate for 2019 and 2020 is projected to be 3.5%, much lower than the long-term US unemployment rate of 4.5%.
The outlook for the US employment market
The outlook for the US job market remains strong, but there could be a risk of it overheating in the near term, which could lead to a workforce shortage and force industries (XLI) to pay higher wages to attract workers. Higher wages are already having a positive impact on disposable incomes, leading to higher consumer spending (VCR), and this could add to the inflationary pressure (CPI) on the economy.
The US unemployment rate is inching close to a six-decade low, and it could fall below 3.5%. The strength of the US labor market coupled with rising inflation (VTIP) could continue to support monetary tightening from the Fed.