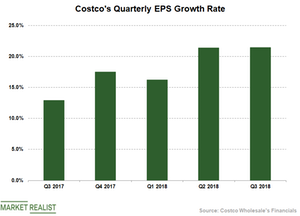 Why Costco's Earnings Are Growing at a Breakneck Pace
By Amit Singh

Updated
Last five quarters saw double-digit growth
Costco's (COST) earnings per share have seen double-digit growth over the past five quarters. As shown in the chart below, the company's growth has exceeded 20.0% in the last two quarters. This growth comes at a time when mass merchandisers' margins are taking a hit from their continued investment in price and other growth measures. These growth measures include the expansion of delivery services. Plus, its margins have been impacted by inflation in transportation costs.
In comparison, Walmart (WMT) has also improved its EPS. Target's (TGT) EPS returned to a growth trend during the recently reported fiscal first quarter. However, Costco's EPS growth rate has exceeded the EPS growth rate posted by Walmart and Target.
Factors driving Costco's EPS
Costco's EPS, similar to its peers, benefited from a significant decline in the effective tax rate. Lower taxes have cushioned the bottom-line numbers of these companies, which help mass merchandisers pursue growth measures and boost shareholder returns in the form of dividends.
In addition to getting a boost from the lower effective tax rate, Costco's bottom line is gaining from its stellar comps growth. Costco is witnessing higher traffic, which is driving its comps higher and, in turn, its EPS. 
The company's increased membership fee income and high renewal rate (90.1% at the end of the fiscal third quarter) further support its profitability. Moreover, Costco's tight control of its overhead also cushions its margins.
Analysts expect Costco's fiscal 2018[1. fiscal 2018 ending August 2018] EPS to mark 21.4% growth, a much higher rate when compared with Walmart and Target. However, investments in price to drive sales and widen the value gap with peers are expected to remain a drag on its earnings.