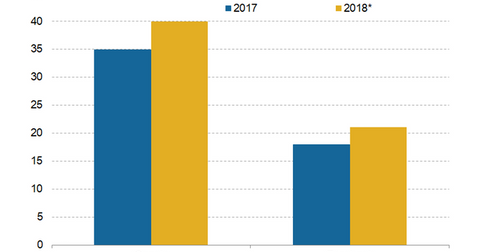 Why AT&T Wants to Be a Key Digital Advertising Player
By Ambrish Shah

Updated
Digital advertising amid subscriber declines
AT&T (T) became the largest pay-TV provider in the US after the acquisition of DIRECTV in 2015. However, the telecom company has been struggling with declining customer numbers in its pay-TV business amid the rapid growth in over-the-top (or OTT) video viewing trends.
Following its acquisition of Time Warner, AT&T is planning to concentrate more on advertising and the digital distribution of content. According to Forbes, "AT&T is also counting on advertising as a way to reduce prices for customers, shifting a part of the costs of content creation from customers to advertisers." As a result, AT&T is looking to acquire AppNexus for $1.6 billion, which is an advertising technology firm, to gain a foothold in the digital advertising sales market. AT&T would allow advertisers to purchase space targeting their audiences across various websites.
Digital advertising revenues
Tech giants like Alphabet's (GOOGL) Google and Facebook (FB) already have a strong foothold in the digital advertising industry. According to market intelligence company eMarketer, Google's digital advertising revenues are forecasted to grow ~14.5% YoY (year-over-year) to reach $39.9 billion in 2018. Facebook's US advertising revenues are predicted to grow ~16.9% YoY to reach $21.0 billion in 2018. Total US digital advertising spending is poised to grow by ~6.6% YoY to reach ~$221.0 billion in 2018.