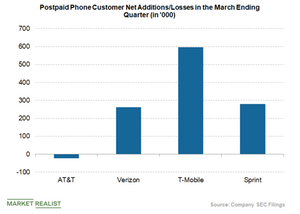 Why AT&T and Other Carriers Stopped Location Sharing with Brokers
By Sophia Nicholson

Updated
AT&T to cut off location information
AT&T (T), Verizon (VZ), Sprint (S), and T-Mobile (TMUS) have reportedly stopped sharing location information of users to data brokers for privacy reasons. However, this action isn't expected to affect the locations shared directly with apps and other services.
As a business practice, mobile carriers share users' location to data brokers to offer services such as fraud prevention and emergency roadside assistance to users. However, none of the carriers have been selling location data, according to industry sources.
Article continues below advertisement
Location data extracted without consent
AT&T and other carriers restricted third-party sharing of their users' locations after these companies faced criticism for breaching the privacy of US phone users. Some outside companies unethically used this location data without the owners' consent.
Verizon stated that nearly 75 companies have been extracting users' data from two privately held California-based brokers that Verizon supplies directly—LocationSmart and Zumigo. In May, Democratic Senator Ron Wyden raised concerns involving Securus Technologies, which provides outbound telecom services to prisons and jails. It was discovered that Securus purchased Verizon customer data through LocationSmart and Zumigo.
There have been rising concerns among consumers over data privacy after Facebook's (FB) Cambridge Analytics scandal. Wyden demanded that carriers and the FCC track the data provided by Securus Technologies. Wyden also asked the carriers to identify the third parties that acquired the location data of users without their consent.
Declining subscriber base
Together, the four largest mobile carriers have more than 300.0 million US subscribers. However, AT&T has been losing postpaid wireless subscribers due to the growing popularity of online streaming services. In the first quarter, the company lost 22,000 postpaid phone subscribers. However, Verizon, Sprint, and T-Mobile gained postpaid phone customers.