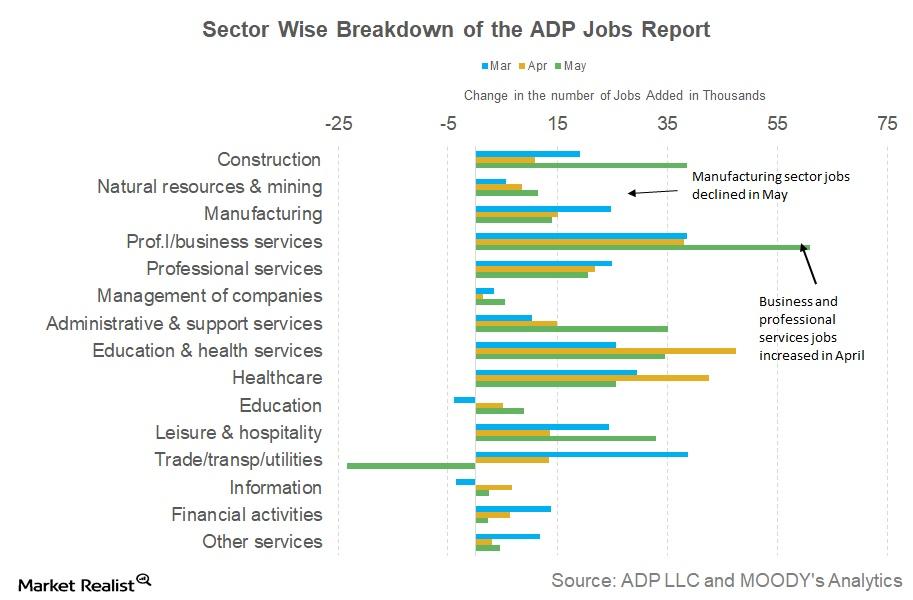 Which Sector Posted the Most Job Gains in May?
By Ricky Cove

Jun. 1 2018, Published 8:08 a.m. ET
Hiring increased across the sectors
The ADP May jobs report was published on May 30 and the report gives an indication about which sectors led the charge in job additions for the month. Mark Zandi, the chief economist of Moody's Analytics, said that US job growth remains strong but is slowing, as businesses are unable to fill the record number of job openings. The low unemployment rate is making it harder for businesses to find suitable employees, which is forcing them to offer higher wages, leading to an overheating economy. An overheated economy could lead to higher inflation (VTIP) and eventually force the US Fed to take corrective measures like increasing interest rates (BND) to limit any rapid increase in inflation (TIP).
Article continues below advertisement
Sectors that improved last month
As per the May ADP employment report, job growth in the professional and business services sector continued to be the key driver for jobs additions. The manufacturing sector (XLI) job growth declined for a second consecutive month, but hiring has improved in the construction and mining (PICK) sector. Hiring in the admin and support services and leisure industries improved marginally, while the trade and transport sector was the only sector to have decreased hiring in May.
The key takeaway from the ADP May employment report
The number of jobs being added is no longer the focus of investors as the unemployment level has dropped below 4%. The focus of investors will likely remain on wage growth and how that is being translated into spending, and eventually into higher inflation. The link between the job report and financial markets is inflation expectations. If inflation expectations go up after this week's job report, we can expect bond yields to rebound from lows that were seen this week.