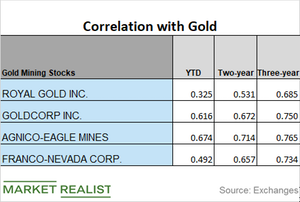 Which Miners Are Closely Correlated to Gold?
Gold is the most influential precious metal
As we've seen so far in this series, gold tends to influence the price movement of precious metal miners. In this article, we'll take a look at the correlations of selected miners with gold. Gold is the most dominant of the precious metals, and silver, platinum, and palladium are known to closely track its trends.
Among the miners we've selected for analysis—Cia De Minas Buenaventura (BVN), AngloGold Ashanti (AU), Hecla Mining (HL), and Kinross Gold (KGC)—AU has the highest correlation with gold YTD (year-to-date). HL has the lowest correlation with gold YTD.
Article continues below advertisement
Falling correlation
Over the past three years, HL and KGC have seen falling correlations with gold. However, BVN and AU saw a mix of increases and downtrends in their correlations to gold.
HL's three-year correlation with gold has dropped from 0.58 to a two-year correlation of 0.51. Its one-year correlation to gold is 0.38. It currently has a YTD correlation of 0.36 with gold, which indicates that ~36.0% of the time since the start of 2018, HL has moved in the same direction as gold. The rest of the time, its movements haven't correlated with gold's movements. A falling correlation indicates that gold has less of an influence on a company's stock price.